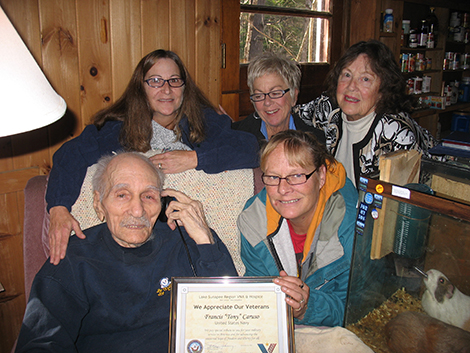 Francis "Tony" Caruso, resident of Wilmot, was honored on November 6 by Lake Sunapee Region VNA and Hospice (LSRVNA) for his service in the United States Navy during World War II. Caruso, who saw two major invasions during his service (Guam and Okinawa), was joined by a loving group of family, friends, and caregivers for this very personal recognition. Betsy Wotton, LSRVNA Hospice Program Director, presented Caruso with a "We Honor Veterans" pin, plaque, and memorial book.
Tributes such as this are an important part of the We Honor Veterans program. LSRVNA was the first home care agency in the Upper Valley and Lake Sunapee regions of New Hampshire to be registered as a We Honor Veterans partner with the Veterans Administration and National Hospice and Palliative Care Organization. Partners meet stringent requirements that help to integrate special programs and best practices when caring for veterans.
Today, one in four dying Americans is a veteran. Through the We Honor Veterans program, dedicated caregivers are stepping up to build their skills and accept the mission to serve those who have served us. The program identifies service men and women upon admission to either home care or hospice.
Interested patients can learn more about the program, and all are offered recognition. For veterans like Tony, military service is often one of the most profound experiences of their lives. And Tony Caruso has seen a lot of life … he was recently honored as the oldest living resident of the town of Wilmot!
For more information please contact Betsy Wotton at 526-4077 or BWotton@nullLakeSunapeeVNA.org.