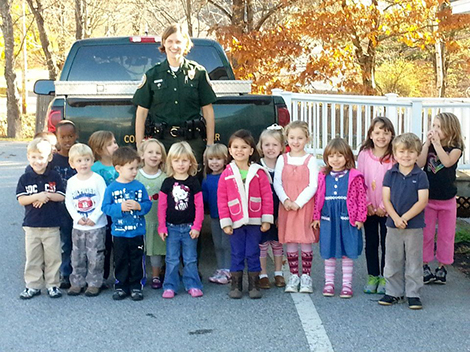 November was a month filled with seasonal excitement, frosty mornings, and warm winter jackets. We collected acorns, made leaf creations, and jumped in piles and piles of leaves.
It was a busy month at the Inn! We were proud to be a part of a Toys for Tots vendor fair hosted and organized by Lisa Braley. It was wonderful to see so many local vendors and craftspeople.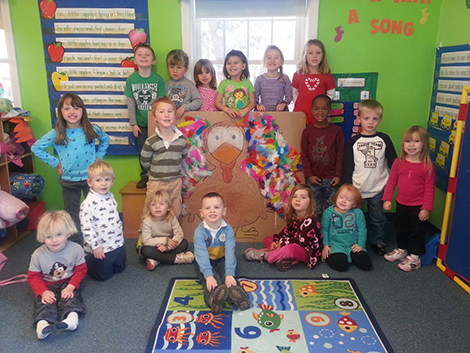 On November 14, the children enjoyed a Turkey Trot. Together, we explored the town in search of turkey feathers for our first fall fundraiser. The children visited many local businesses and explored the campus in search of feathers. It was a busy morning searching for a turkey and finding only clues that led us to our next stop.
We found feathers on the football field, by the pond, on a bench, and throughout the entire town. Together, the children found over 50 stations and collected 1,270 feathers. The collected feathers helped decorate a huge classroom turkey.
It never ceases to amaze me how wonderful the town and community are to the children here in Andover. Special thanks to our friends at the Andover Town Library, Pizza Chef, Jake's, Lake Sunapee Bank, New Horizons, and all the wonderful ladies at the Town Offices. The children were so excited to search for the feathers, and your smiling faces and welcoming arms made the day quite a memorable event.
The final numbers are still out, but it appears our little hunters raised roughly $1,200. We are looking forward to adding many new toys, crafts, and activities to our classrooms.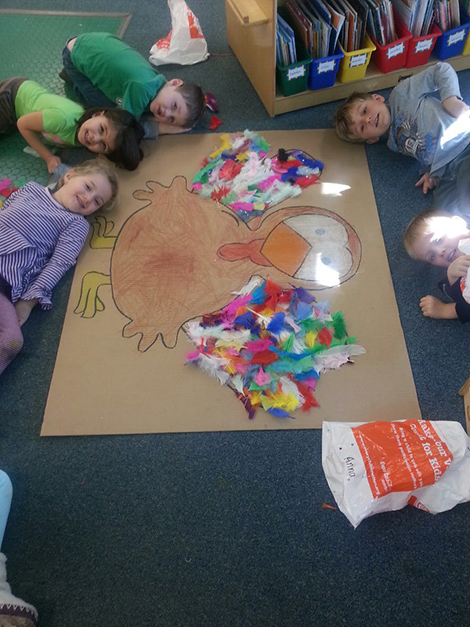 On November 20, children invited their grandparents to our second annual Grandparent Pie Social. Parents donated pies, and families came together as we welcomed the beginning of the holiday season.
The Preschool Pandas and Terrific Tigers shared a few of their favorite songs, and we all enjoyed the chance to meet and share our morning with these very special people. Some of the grandparents traveled hours to attend. We had lots of smiling faces and happy children.
Welcoming December
December had Jack Frost nipping at our noses. Winter mittens and hats joined our winter coats, and visions of snow falling danced in our heads.
During the month of December, we will be enjoying a Winter Wonderland Pajama Family Night. Families will wear their Christmas pajamas to the Inn and enjoy hot cocoa and cookies.The children will follow the snowflakes through the school and explore different fun hands-on stations. They will be making reindeer food, tossing marshmallows, and writing letters to our friends at the North Pole. I expect Santa will stop by and check on our busy little elves here at Imagination Inn. It is sure to be a fun-filled holiday event.
When we return from the winter break, we will be welcoming 2013. January will bring many outdoor snow ball fights, angel making, and a little bit of snow painting as well. We will be walking the rail trails and leaving our footprints in the snow.
With any luck, Mother Nature will be dropping some wonderful white fluffy snow our way. After all, what would January be without a few feet of snow? Hmmm … I wonder how long it would take for a bucket of snow to melt in our watertable? How big can we make our snow man this year, and how many little ones can we fit on the sled?
Ahhh, the joy of winter at the Inn, so many questions, so much to do and explore, and so little time.
On behalf of everyone here at Imagination Inn, to our families, to our friends, to our amazing community, we wish you all the very best this holiday season. Remember to spread the warmth of the Christmas season to all those around you and make this world a beautiful place to live in. Merry Christmas and Happy New Year!
Christmas is forever, not for just one day, for loving, sharing, giving, are not to put away like bells and lights and tinsel, in some box upon a shelf. The good you do for others is good you do yourself.
– Norman Wesley Brooks, Let Every Day Be Christmas, 1976