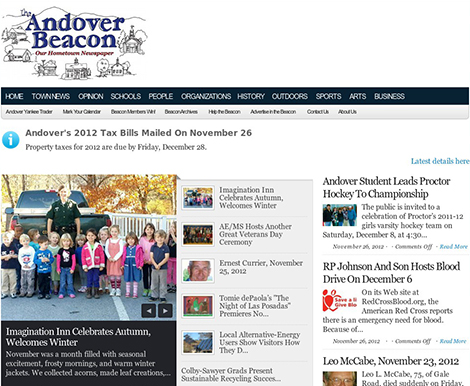 The biggest dent in the Beacon's value to the Andover community has always been that it only appears once a month. We've finally solved that problem with a totally new Web site at AndoverBeacon.com. As news arrives at the Beacon's office throughout the month, it will be posted to AndoverBeacon.com as fast as our volunteers can "get a round tuit."
As each new month rolls around, we'll still assemble "All the News That Fits" into the print edition of The Andover Beacon, just as we have for the past eight years. The print edition will still be mailed to every Andover address at no charge.
The new Web site doesn't replace the print edition – it simply picks up the slack that the print edition, by its very nature, has always left in the community.
Two Big Advantages To The Community
The new AndoverBeacon.com has two important advantages for the community.
It's More Timely. Instead of waiting for the next print edition for Andover news, please check AndoverBeacon.com every day. We'll post articles and photos there just as fast as our volunteers can get to it.
There's More Of It. In round numbers, it costs about $200 in printing and postage charges to add four pages to the printed Beacon. Those four pages might hold a dozen articles and photos.
In round numbers, it costs about $0 (that's right – just about nothing!) to add a dozen articles and photos to the Beacon Web site. So while we have to cut many articles every month from the printed Beacon because of budget constraints, we should have no problem including those articles and photos on the Web site (if we have enough volunteer help to do it).
One Big Challenge To The Community
But of course, nothing's really free. It takes a lot of time and effort to maintain AndoverBeacon.com – more time and effort than the Beacon's current volunteer team can possibly handle! If the community values having lots of Andover news available on a timely basis, it will have to step up with more volunteer help and/or more donations for the Beacon. There's simply no way of getting around that challenge, short of shutting down the Web site.
The good news is that there are tremendous benefits to volunteering for the Beacon, especially if you're willing to work on the Web team. The Web site is built with WordPress, arguably the most important content management system powering the Web today, so helping keep AndoverBeacon.com up-to-date is A) pretty easy, even if you're not a computer expert, and B) a very valuable skill to have, whether you're a young person just starting out; an experienced working person who needs to acquire some 21st-century job skills; or even a retiree interested in learning to "blog" about a favorite hobby or other interest.
(We also need volunteers, as always, for other areas besides the Web site, especially bookkeeping, writing articles, taking photos, managing articles and photos, managing the volunteers, writers, and photographers, etc.)
So please, visit AndoverBeacon.com soon, and often. I think it will give you an exciting new perspective on our wonderful town.
And please, find a way to show some additional support for the Beacon – as a volunteer, as a donor, or both. The Andover community can "have it all" – a great monthly paper and a timely news Web site – but only if it can collectively rise to the challenge of making both work. We're not there yet, but with your help we'll get there!
About the Beacon
Now would be a good time to remind you that the Beacon is published by a non-profit corporation and 501(c)(3) tax-exempt public charity. This is a community project that is widely recognized as making a big difference in the quality of life in Andover. As such, it is very worthy of your support and, in fact, can't survive without it.
For more information about the Beacon, see page 4 of the print edition or visit AndoverBeacon.com and click About Us.