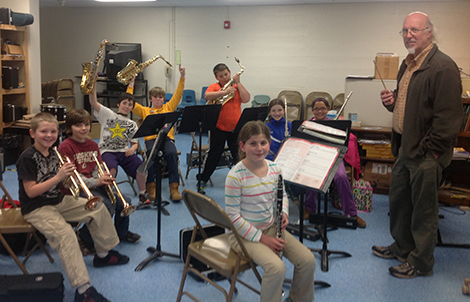 Winter concerts are on the way, just like Santa and his sleigh!
On Thursday, December 6, the Andover Elementary School will present its 2012 Winter Concert at 6:30 PM in the school gym. Kindergarten through fifth grade will be represented, live on stage. The audience can expect seasonal favorites from Rudolph to Feliz Navidad and Jingle Bells, as well as new tunes about the Christmas Pig and when Rudolph decided to "rock out"! Hope to see lots of folks there to kick off the season right.
The following Thursday, December 13, the AE/MS Band will take the stage for its 2012 holiday instrumental concert. The band has been working on a variety of material, including the Shaker Hymn and the Carol of the Bells. There will also be some patriotism on display with You're a Grand Old Flag, and a blues to loosen us all up for the holiday season. The audience will hear solos as well and an appearance by the Beginner Band. Showtime is 6:30 PM. It'll be "Ho, ho, ho!" time.