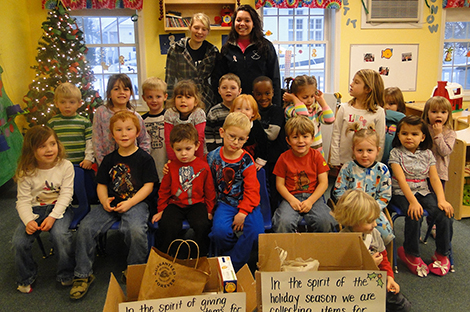 The Andover Food Pantry, in the basement of the Town Hall, has received many generous donations of cash and non-perishable, staple food items from schools, clubs and organizations, businesses, and individuals. The photos accompanying this article document just a small slice of the generosity the community has shown to our friends and neighbors in need.
The Andover Food Pantry, sponsored by the Andover Lions Club and The Andover Beacon, is open whenever the Town Hall is open and welcomes anyone who needs some help putting food on the table – take what you need, no sign-up, no questions asked.
After the holidays, donations to the Food Pantry often dwindle; yet the need continues! The community is urged to donate cash and/or non-perishable, staple food items throughout the year so we can continue this valuable service. Checks can be made out to the Andover Lions Club (put "Andover Food Pantry" in the memo line) and mailed to PO Box 204, Andover 03216 or dropped off at the Town Hall. If you donate food, please be sure that nothing's already been opened or is out-of-date.