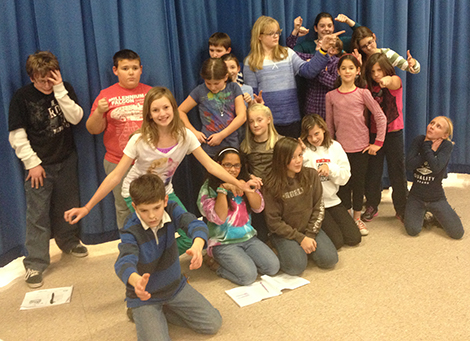 The Andover Players, members of the Andover Elementary/Middle School Drama Club, will perform Alice in Wonderland at the school on Thursday and Friday, March 28 and 29, and the involvement of the greater community is anticipated.
Led by English teachers Sarah Edmunds and Molly Kidane, students in grades five through eight have been preparing since they auditioned in late October. While student progress has been exceptional, program leaders said, "community involvement through donation of funds, time, building supplies, stage furnishings, and various props will be enthusiastically welcomed."
"The Andover Players is an after-school program devoted to building a love of all aspects of the theater," said Sarah. "Students have the opportunity to study acting as well as lighting and set design, costuming, and scenic painting. We want them to understand that theater is a collaborative art. We all have to work together to create something wonderful."
Eighth grade student Jared Duquette, the production stage manager, said the play is going great. "It is a fun after-school activity that includes games and learning. The show is going to be pretty good. Everyone should come," he said.
The students are rehearsing at least three days each week. They have already committed Act I to memory, and they are working on the blocking and memorization of Act II. "The students are putting forth great effort, and it's encouraging to witness the can-do spirit with which they address challenges," said Sarah.
The Andover Players request that those seeking to support the program do so by contacting Sarah at SEdmunds@nullAEMSeagles.org. If you have any of the following items, or if you would like to donate monetarily, your efforts will be greatly appreciated.
Principal items might include: building supplies (2x4s, strapping, screws, 4×8 sheets of luan, plywood, paint), a throne, pots and pans, a stuffed pig (medium size), crowns for a king and queen, large pepper mill, slide whistle, short garden fences (white), small tables, matching dining room chairs, fancy table cloths, large black cloth, small and large glass bottles, large pieces of white foam core, and a chef hat and apron.
The AE/MS Drama Club is also at work preparing for a Dance-a–Thon fundraiser that will take place on Friday, April 19, in the Andover Elementary/Middle School gym. The event will help raise money for next year's show.