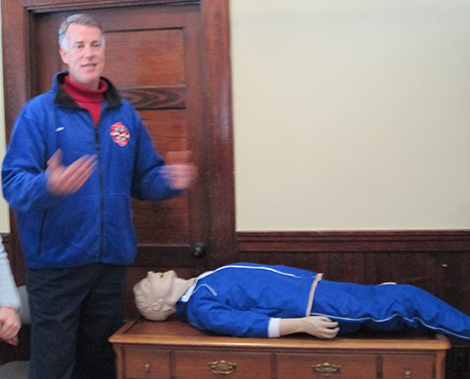 The first meeting of 2013 opened with a welcome from our president, Mary Ofenloch. There were 20 members attending and four guests.
Opening words were given by Judy Evans, who read a poem about aprons and one on the woes of eating too much over the holidays. This was especially appropriate after the wonderful luncheon we had at The Flying Goose restaurant in December. Thirty-five members enjoyed this event and sang Christmas carols after lunch.
Scholarship applications will now be available online on The Andover Beacon Web site. They will be due the first of May.
Our Thrift Shop has a new look. The desk was replaced with a jewelry counter, and some of the stacks have been rearranged.
Our pie sales over the holidays were a success, and now we are planning for the Town Meeting Day luncheon on Tuesday, March 12. We will again be serving our delicious soups and chilis, as well as baked goods.
We are also hosting a fun evening on the 20th of April and open to the public. Hopefully, you will be spotting the event particulars on posters around town.
Our speaker was John Kinney, Captain of the Andover Emergency Medical Service. He spoke about hands-only CPR, the importance of recognizing the signs of a heart attack, and calling 911 for immediate assistance. Several helpful handouts were passed around. It was extremely informative. He showed some of the newly-acquired equipment the Andover EMS has and spoke on the need for a piece of equipment called the "thumper."
Refreshments were delicious as always and supplied by hostesses Nancy Tripp, Mary Romano, Joyce Egge, and Grace Stetson.
Our next meeting will be on Wednesday, February 13 and will be our annual membership auction. It is always an enjoyable event, bringing good-hearted competition and many laughs. As always, we invite new members to our club and new customers to our Thrift Shop.