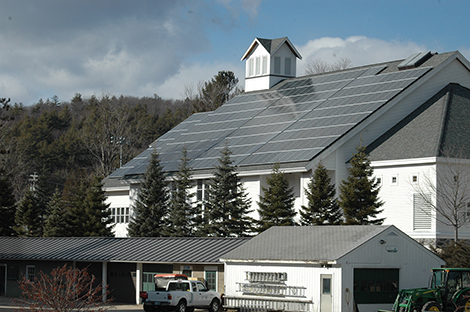 Two local schools have seen the value in making a commitment to harnessing solar energy. Both Colby-Sawyer College in New London and Proctor Academy in Andover are prime displays of harnessing the sun's abundant energy while not spewing waste into the atmosphere or into the environment.
You can see Proctor's solar array when you drive through Andover. Both schools also serve as prime examples of other ways in which waste can be reduced in day-to-day activities.
At Proctor this can be seen when viewing the white smoke that billows from a stack that used to spew the smoke of coal from the early 1930s until 1962, when oil-burning furnaces were installed to feed Proctor's campus-wide steam plant.
In 2008, Proctor supplemented the 1962 oil furnaces with the Walt Wright '49 Biomass Plant, which operates at approximately 700% greater efficiency than the oil furnaces. In one week, the plant burns almost 100 tons of locally-harvested wood chips, which cost approximately the same as one day's worth of #4 fuel oil. Today, 21 Proctor buildings are heated by locally-grown wood as opposed to coal or oil.
At Proctor, 273 US-made panels generate 90,000 kilowatt hours of electricity a year, offsetting 139,000 pounds of carbon that would have otherwise been pumped into the atmosphere.
Colby-Sawyer College has 517 panels on the roofs of four campus buildings. The installation of the 127 kW solar array is a significant step toward the college's long-term goal of becoming a carbon-neutral campus by 2050. The college anticipates a 197,990-pound reduction in its carbon emissions in the first year alone.
"With the tremendous reduction in solar electric panel prices since 2008," the two schools illustrate how "solar power is actually substantially more cost effective than traditional fossil fuel-based power generators," says Steve Condon, sales and marketing manager with ReVision.
Colby-Sawyer was first, but both schools used ReVision Energy in Exeter to invest in solar power. At Proctor, the Wilkins Meeting House is used for solar because it's aligned within five degrees of solar south. The array at Proctor is very new; it was just powered up on January 2.