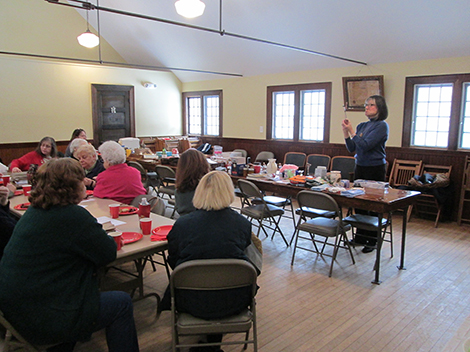 Our February meeting opened with a welcome and words from our president, Mary Ofenloch. Since it was close to Valentine's Day, Mary read some poems on love. She also noted that we had three consecutive special days this month: Lincolns Birthday, Ash Wednesday, and Valentine's Day. She honored one of them with the recitation of the Gettysburg Address.
Although we had a good turnout of 24 members and one guest, we have several members with health issues. We wish them a speedy recovery.
We have placed our scholarship applications on the Beacon Web site, at the Thrift Shop, and at the schools. Completed forms are due by May 1, 2013.
We have a wonderful program planned for April 20 which will be open to the public. We have a humorist who goes by the name of Fred Marple performing a widely-acclaimed comedy show. He hails from the fictitious town of Frost Heaves, New Hampshire, and is extremely clever in the manner in which he presents his material. It is a show that should not be missed, and one that will be talked about for months to come. Please join us at the Andover Elementary/Middle School on April 20 at 7PM. We have kept the price down to a mere $10 for adults and $5 for students, and children under 6 years old are free. It is a family-appropriate show so bring the whole family for a night of good cheer and laughter.
The Thrift Shop is continually undergoing a transformation and is full of great bargains. We will be starting to put in our summer clothes, so be sure and check us out.
Don't forget to come by our tables on Town Meeting day, March 12,  for our delicious lunch consisting of chowders, soups, breads, and other baked goods. We are pleased to provide this service, and all proceeds go to fund scholarships.
Our program for our meeting consisted of our annual auction which is always a source of good fun, great bargains, and enjoyable fellowship. Our program next month will be a trip to King Arthur Flour in Norwich, Vermont.