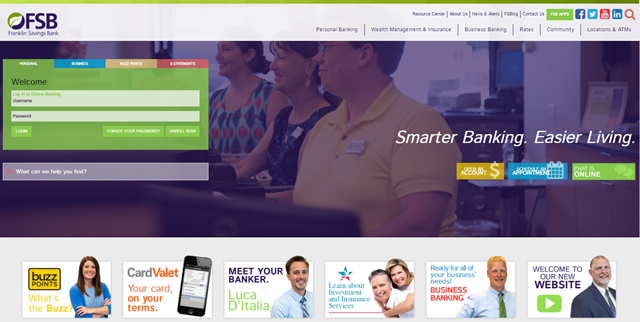 Franklin Savings Bank (FSB) is pleased to announce the launch of a new logo and a new tagline: Smarter Banking. Easier Living.
The new logo represents the Bank's growth and evolution as a tech-savvy financial institution, while the fresh typography reflects its down-to-earth, friendly, and collaborative approach to the customers and communities it has proudly served for over 147 years.  The new logo also retains the traditional purple and green colors along with the leaves, revealing a crisp, modern look that will resonate with customers and the community.
The new tagline highlights FSB's focus on technology and its ability to make managing finances easier for customers.
According to Ron Magoon, President, "When we began this process a year ago, we knew that we wanted to retain our name based upon our history of serving the needs of our customers and the community. However, as we continue to focus on investing in new technology as well as devoting more resources to providing customer education, we felt it was important for our brand and image to reflect these areas of focus."
The Bank hired McDougall and Duval of Amesbury, Massachusetts, to assist with the redesign of the logo and tagline.
Magoon further commented, "It's important for everyone to know that we are proud to be a community bank.  And as an independent, mutual institution, we are able to invest resources into solutions that make life easier for our customers.  That's where the 'smarter banking, easier living' comes in. We don't have shareholders to satisfy, which means we are able to plan for and focus on the long-term success of the bank, our customers, and the community."
In addition to the rollout of the bank's new logo and tagline, a new Web site will be unveiled containing a new, more secure .bank domain. Reserved exclusively for banks, the new .bank domain provides an added layer of security as well as strict controls in an effort to mitigate cyber-security risk. It also provides a safer channel for confidential communications between banks and customers.
"We are pleased to be launching our new Web site revealing a contemporary look that is reflective of our new brand," said Dawn Beers, AVP, Marketing Officer. "Our new Web site also features improved navigation to some of our popular services, such as Card Valet, Pop Money, Online Banking, and Bill Pay, along with expanded access to instructional videos, so customers can receive insightful training and information on products, services, and financial issues that are of importance to them."
The new FSBnh.bank Web site also features personalization options for frequent visitors, up-to-the-minute feeds for the Bank's social media channels, a new FSBlog featuring monthly articles penned by a group of employees, a new look to Online Banking, and much more. FSB retained Millennium Integrated Marketing based in Manchester to assist with the development of its new Web site.
Over the next few weeks, new exterior signs will be installed at the bank's seven full-service branch offices located in Boscawen, Bristol, Franklin, Gilford, Laconia, and Tilton, as well as its Bedford Lending Office.
Established in 1869, Franklin Savings Bank is an independent, mutually-owned community bank, offering a full array of commercial lending, retail banking and investment services throughout the Central Lakes Region and southern New Hampshire. Franklin Savings Bank also offers investment, insurance, and financial planning services through its wholly-owned subsidiary, Independence Financial Advisors.
You can learn more about Franklin Savings Bank by calling 800 372-4445 or visiting FSBnh.bank, Facebook.com/FranklinSavingsBank, or LinkedIn.com/company/franklin-savings-bank.