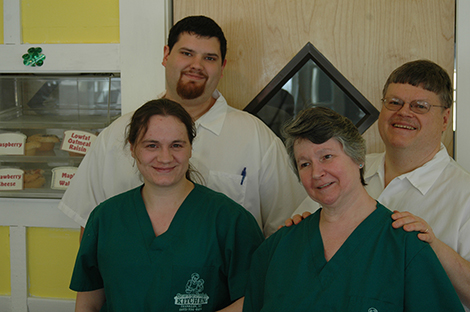 "I don't usually tell you what to do, but I just want to point out that one thing around this house is expanding, and one other thing is shrinking. The two things are our bank account and your waistline. I'll let you decide which is which, and I'll let you decide what to do about both."
So saying, Judy Cloutier left her husband Yvon (pronounced "Ivan") sitting on the couch, where he had lounged since retiring from his bank job four months earlier. "It didn't take long," chuckles Yvon, "to figure out what she meant."
"Shortly thereafter, some words popped right off an advertising circular I was reading," says Ivan. "Although the ad didn't specify where the little cafe was, I felt strangely compelled to make the inquiry. I immediately recognized the voice on the other end; it was the owner of a small restaurant in West Franklin, the very one who had previously sold us another restaurant in Bristol."
The deal was clinched within hours, and the Cloutiers became the proud operators of Granny Judy's Kitchen at 71 North Main Street in West Franklin, where Yvon and Judy, their youngest son Benjamin, and Benjamin's wife Lisa now serve made-from-scratch, love-stirred-in, down-home breakfast and lunch.
The building has at various times been a five-and-dime store, an IGA grocery, a post office, beauty shop, chiropractor's office, and neighborhood restaurant. It took a bit of reconstruction, but the Cloutiers turned it into a lovely, relaxed atmosphere for dining. Parking is a breeze.
New Function Room
Now, after seven years of operation, the Cloutiers have bought out the other half of the building and expanded their facility. The additional room is open on Sundays and for private functions, taking the slack from the closure of Mr. D's and Neil's restaurants just up the road. This lends a positive tone to the currently soured economic climate and a new venue for Franklin and neighboring communities like Andover.
Says Yvon, "We serve ten different kinds of Judy's muffins. We always have fresh fruit salad on the table for breakfast. Our signature pot roast dinner has all the fixings and is a large enough portion that the remainder can go home for supper. Our soups and chowders are heavenly, and even our breads are cooked right here by us. No one can beat our lobster roll! We have an extensive and creative menu, and all meals are made to order. The doors open at 6:30 AM. We start serving lunch at 11 AM. Join us for Sunday brunch, and consider reserving Granny Judy's new dining room for your organization's next meeting or for your family reunion."
You can reach Granny Judy's Kitchen, 71 North Main Street in West Franklin, at 934-4404.