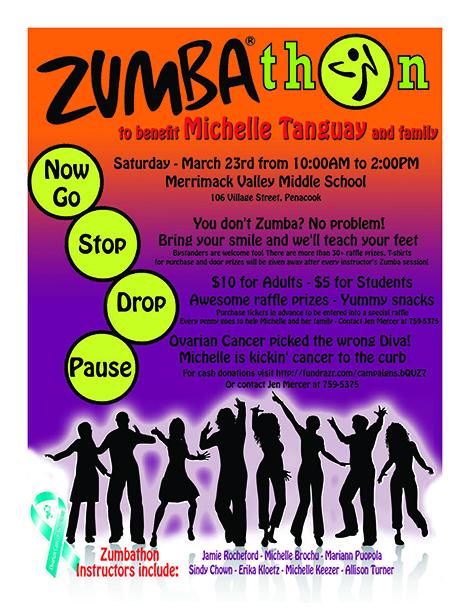 The Michelle Tanguay Believe Fundraising Committee is asking for your support. The Merrimack Valley community has an amazing woman who gives selflessly of her time and resources to help others. Our own Michelle Tanguay, owner of Commit 2B Fit at Infinite, has been diagnosed with ovarian cancer.
Ironically, Michelle's cancer diagnosis came just weeks after she donated her time and energy to host a fundraiser for a little girl in our community with cancer. Therefore, Michelle's friends have decided to host a Zumba-thon fundraiser on Saturday, March 23 from 10 AM to 2 PM at Merrimack Valley Middle School in Penacook to help Michelle and her family and are asking for your support in the form of donations.
We are accepting all varieties of donations: items to be raffled, items for the family, gift certificates, cash, water/snacks for the Zumba-thon, and anything else you may come up with. For cash donations, please make checks out to Michelle Tanguay and mail the check to Jen Mercer, 556 Love Joy, Loudon 03307 or visit FundRazr.com/campaigns/bQUZ7.
For other donations, please contact Michelle Keezer at Zumba.Keezer@nullgmail.com.
We appreciate your support of this great community member. Our Merrimack Valley community is strong in our selflessness and commitment to help each other. Thank you.