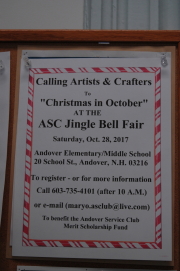 If you are an artist whose specialty is painting in oil, watercolor, pen and ink, pencil, acrylic, or any other 2D or 3D medium, you are invited to reserve a 9 by 10 foot space for Christmas in October at Andover Service Club's (ASC) Jingle Bell Fair.
Perhaps you are a crafter making fine handcrafted items, such as crocheted, knitted, sewn, quilted, carved, sculpted, or any other handcrafting medium, you are also invited to reserve a 9 by 10 foot space for the fair.
The Christmas in October Jingle Bell Fair will be held on Saturday, October 28 from 10 AM to 3 PM at AE/MS. Cost to reserve a space is $25, with or without a table and chair. This event is indoors, rain or shine. Spaces are limited, so please reserve early. Deadline to reserve a space is Saturday, October 14.
The ladies of ASC will be baking their wonderful desserts, to be sold at the fair, with coffee and tea. Yum!!
For more information and a registration form, please call 603-735-4101 after 10 AM, or e-mail MaryO.ASClub@nulllive.com.