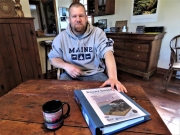 A 3.25-pound, 227-page loose leaf binder focusing on the ecosystem of New Hampshire's rocky coast line and crammed full of facts, figures, field guides, and more is the end result of a year long study by Andover resident Thom Smith. Just released in PDF format at his Web site: engageyourstudents.org, the binder contains a curriculum designed to support a seven-week teaching unit for use by elementary school science teachers across the state and beyond.
Smith, a Kearsarge Regional Elementary School teacher in Bradford, was awarded the 2016 Christa McAuliffe Sabbatical from the New Hampshire Charitable Foundation. The sabbatical, created in 1986 in honor of the Concord High School teacher and astronaut, and administered by the Foundation, gives an exemplary New Hampshire teacher a year off with pay and a materials budget to bring a great educational idea to fruition.
Asked how he came to focus on the topic, Smith said, "Teacher training in elementary school science often lags behind training in other critically important subjects like math and reading. I'm hoping this curriculum will give elementary school teachers, and college students studying to be elementary school teachers, the tools and education to help them be more effective science teachers."
Smith's work is entitled Rocky Shore Marine Science Curriculum: An Ecosystem Unit for Elementary Educators. The material is now available on the internet at no cost to New Hampshire school districts and anyone looking to educate their students about the rocky shore ecosystem. Smith is also offering free professional development workshops across the state for teachers, and for college students aspiring to be teachers.
Smith collaborated with experts from the University of New Hampshire, the Seacoast Science Center, and the New England Aquarium to ensure accuracy throughout his project. Hobblebush Books out of Brookline, New Hampshire, and science illustrator, Adam Kelley, were the professional designers of the science unit.
Smith also received assistance from Andover Elementary Middle School's third grade teacher, Jay Hubbard, with some ideas for the curriculum, including a field guide project for students to participate in. He will be teaching a class or two on the rocky shore in Mr. Hubbard's class this spring.
The Christa McAuliffe Sabbatical was established by then Governor, John H. Sununu, and the New Hampshire legislature to honor McAuliffe's life and work.