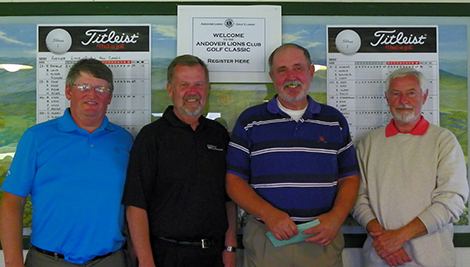 The Andover Lions Club had an extremely successful golf tournament on the 24th of September, with the team of Ken Currier, Dick Holden, Ralph Mahar, and Bernie Davis taking first place. We had 13 teams playing at the Country Club of New Hampshire. We held raffles and various contests and provided donuts, coffee, lunch, and dinner.
Many thanks to those who sponsored a hole or a cart or donated an item for the raffle and prizes. We look forward to an even bigger turnout next year.
Our Halloween Open House at the Lion's Den on Poplar Street for young goblins and witches was held on the 31st of October, and we provided apple cider, munchkins, and games.
Calendar Raffle
We are continuing to sell calendar raffle tickets. Please see one of our members to purchase a ticket. They are only $10 each, and winners will be selected during the month of January.
Our next big event will be our December middle school basketball tournament being held at Proctor Academy on Wednesday and Thursday, December 26 and 27. This is a really fun event, as we watch the boys and girls teams from local schools vie for the championship.
Christmas Tree Lighting
On October 18, the Lions planted a new blue spruce on Main Street at the Town Hall to serve as the town Christmas tree. The old tree had gotten too tall to decorate easily and was taken down earlier in the month.
The annual town Christmas tree lighting will take place on Saturday, December 1. Please gather at the Town Hall at 5:30 PM for refreshments. We'll go out to light the tree and sing Christmas carols at 6 PM. Everyone is welcome!
As always, we welcome new members, if interested, please give our membership chair, Lion Howard George, a call at 735-5590.