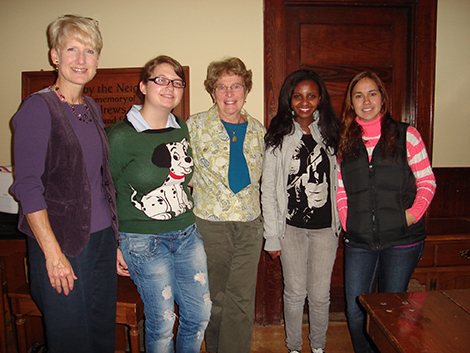 Our October meeting opened with a welcome from our president, Mary Ofenloch. Opening words were given by Sandy Miller, who told a joke about nuns and read a poem about clotheslines. This resulted in several members reminiscing about when they were young and their families or themselves used clotheslines; some still do.
Our president spoke about some of the challenges we are faced with in the present economy. Like many service-related clubs today, we have many more projects that need to be done and many more folks to assist than we have the funding. Our biggest fundraiser is our Thrift Shop but with all the competition for donations, consignment items, and customers, we have been experiencing a decline in revenue. This is our primary source for funding our scholarship program. At one time we were able to give away $15,000 in scholarships, but now we have to limit our giving to $5,000. We are working on finding other avenues to increase our financial intake.
On a more positive note, one of our hardest working members was honored on the 18th of October at the Capitol Center for the Arts for her tireless efforts in helping others. Mrs. Gisela Darling will be receiving the state award for volunteerism, and it could not go to a more deserving individual. We are all very proud of her.
Special guests spoke about the Colby-Sawyer College Friendship Family Program. The speakers were Nancy Allenby of Colby-Sawyer and international students Hermella (Ella) Tekle of Ethiopia, Jovana (Jo) Stojanova of Macedonia, and Ana (Anita) Paniagua of Paraguay. Ella is a business major, Anita is a psychology major, and Jo is a history major.
The girls spoke of their first impressions of life in New Hampshire, cooking meals of their home countries for their Friendship Family, and how they are anxious to see New England snowfalls, which will be a thrill for them, since none have ever seen snow.
Colby-Sawyer has 130 international students from 30 different countries and six continents. This was a very interesting program, which the members found to be educational and informative.
The Thrift Shop was open on Halloween Night for treats and an open house. We now have a dollar rack for some of our items.
On Election Day, November 6, we will again be serving lunch consisting of chowders, soup, bread, and other baked goods starting at 11 AM.
On Monday through Wednesday, November 19 through 21, from 11 PM to 7 PM, we will be selling pies for Thanksgiving at the Circle K in Potter Place. There will be delicious berry, mincemeat, pecan, and pumpkin pies for $9 each.
Our next meeting will be on Wednesday, November 14, and will be followed by a presentation from The Medicine Crow Woman.
The Medicine Crow Woman
By Mary Ofenloch
Andover Service Club President
The special guest speaker for the November meeting of the Andover Service Club (ASC) will be The Medicine Crow Woman, better known as "Auntie Crow." She describes herself this way: "I am Medicine Crow Woman, an elder of Northern Cheyenne heritage. Through many interesting experiences here on this earth, I am becoming aware daily of my journey's purpose.
"There has always been a part of me that recognized my sacred pathway as different from other people in my life. As a Native American woman, I endeavor to share my culture with others and build bridges of understanding through the sharing of the teachings given to me. I have found through the sharing of these traditions, a stronger foundation of understanding and acceptance is emerging."
The ASC meeting will take place on Wednesday, November 14, at 10 AM in the Masonic Hall in Potter Place. The agenda includes the monthly business meeting, special speaker "Auntie Crow," and refreshments provided by the Hostess Committee. Members are encouraged to bring a guest. Any lady who would like to become a member of ASC is also invited to attend.
For more information, e-mail Mary Ofenloch, President of ASC, at MaryO.ASClub@nulllive.com.