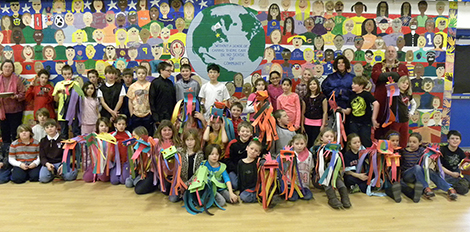 Happy New Year! Chinese people recently celebrated the New Year, which is now 4711. In Chinese culture, the zodiac is a part of the celebration. This is the year of the snake. Our fourth grade students heard the story of the good dragons who, during a time of no rain, helped the Chinese people by making it rain. Crops became plentiful. The dragon is now one of the most famous mythical animals in their culture
The fourth grade made paper dragon puppets. They had many details such as the long "grandfather" whiskers, snake scale textures on the body, small deer horns, and a lion's tail. For fourth graders the steps to creating this paper dragon was quite a challenge. They all were successful.
On February 21 we had our dragon parade. We walked to each classroom with our dragons and with some teachers and with several band students and fifth graders. These students played drums and other festive instruments thanks to Mr. Hubert.
A window in each classroom was opened to let out all the bad luck and to welcome the good luck of the mythical dragon parade. The children enjoyed sharing their dragon puppets, and the students and teachers of AE/MS had the privilege of enjoying a joyful holiday from another culture. Ms. Unger took photos of the event so that we can all enjoy seeing our parade once again.
To add to the festivity, our school chef, Ms. Young, created a delicious Chinese lunch, with a fortune cookie for all!
Gung Hae Fat Choi, or Happy New Year. There are now videos of Chinese New Year 2013 in Chinatown, NYC, on YouTube. Their parade was three days after ours. They feature the lion parade and the dragon parade.
Thank you to all who helped us to celebrate this international holiday!