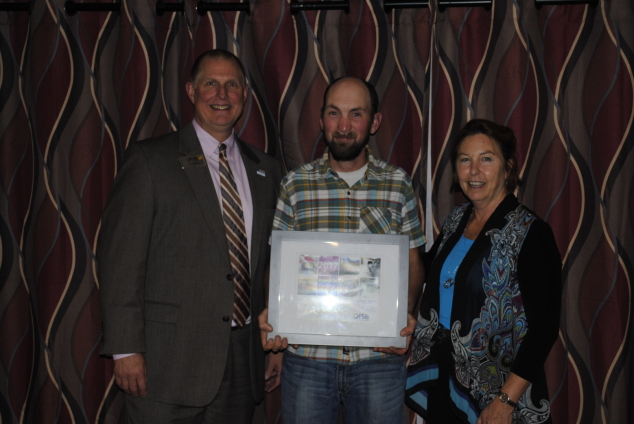 A total of nine local organizations were recently honored by Franklin Savings Bank for their contributions towards improving the lives of individuals and families within the Central Lakes Region at the 5th Annual Fund for Community Advancement Event. The event recognizes non-profit entities who were recipients of a grant from the FSB Fund for Community Advancement. This year's honorees included Child & Family Services of NH, Franklin Outing Club, Grafton County Senior Citizens Council and Pemi Youth Center (Franklin), along with Boscawen Congregational Church, Circle Program, Franklin Opera House, NH Alcohol & Drug Abuse Counselors Association and NH Veterans Cemetery Association, Inc., which represent the 40th round of grant funding totaling $25,000 in awards.
"This is one of my favorite events that I look forward to each year, where we come together to celebrate the great work being done in the community," said Ron Magoon, President & CEO.  "It is truly amazing to hear about the extraordinary work these organizations have done to improve the lives and well-being of individuals and families in our communities."
During the event, an organization is presented with the Richard W. DuBois Community Impact Award to recognize a grant that made a significant impact in/or around Franklin.  The Franklin Outing Club was the recipient of this prestigious honor for their efforts with repairing a cable for the T-bar at the Veterans Memorial Recreation Ski Area.  The cable was purchased in 1967 from Mount Sunapee for $5,100.
Established in 1997, the FSB Fund for Community Advancement provides support towards projects that will enhance the lives of individuals in the communities served by Franklin Savings Bank.  The Fund has awarded 196 grants totaling $942,192 since its inception and supports a broad range of non-profit community activities.  Areas of support include economic development, affordable housing, education, healthcare, social services, environment, arts and humanities, human services, as well as programs or services that address the needs of children, adolescents, and single parent families.  For more information, visit www.fsbnh.bank and click on Community – FSB Fund for Community Advancement.
Established in 1869, Franklin Savings Bank is an independent, mutually-owned community bank, offering a full array of commercial lending, personal banking and investment services throughout the Central Lakes Region and southern New Hampshire.