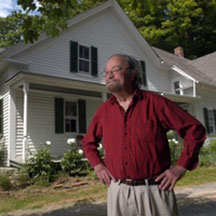 Donald Hall, whose poetry was loved by his neighbors and by folks throughout the United States, died at Eagle Pond Farm in Wilmot on June 23.
With his second wife, Jane Kenyon, a poet in her own right, Hall moved to Eagle Pond in 1975. The farm was the home of Hall's grandparents and had been in the family for over a century at that time. His mother and his grandmother were born in the house.
Hall was born in New Haven, Connecticut in 1928. He began publishing poetry while a student at Phillips Exeter Academy. He received his bachelor's degree from Harvard in 1951 and a bachelor in literature from Oxford University in 1953. After college he taught at the University of Michigan at Ann Arbor.
From his first marriage, Hall has two children, five grandchildren, and one great grand child.. His second wife, Jane Kenyon died of Leukemia in 1995.
Though not a native to New Hampshire, Hall has said; "My mother instilled New Hampshire in me," he said. "I was created to love New Hampshire."
Hall is most known for his poetry, but he also wrote magazine articles, plays, short stories and children's books.
His first book of Poetry was entitled Exiles and Marriages published in 1955. Other titles include: The Alligator Bride, The Town of Hill, Kicking the Leaves, and White Apples and the Taste of Stone to name a few. In 2015 Hall published a selection of his favorite work which was entitled The Selected Poems of Donald Hall.
One of his favorites works of Prose is String Too Short to be Saved, published in 1961. Others include: Seasons at Eagle Pond, Life Work, The Best Day the Worst Day: Life with Jane Kenyon and more recently, Essays After Eighty published in 2014.
Not only was Hall a prolific writer, but he was able to write about a great variety of topics. He was a baseball fan and wrote about baseball and had articles published in Sports Illustrated.
With over 20 volumes of poetry to his credit, Hall was named the nation's 14th Poet Laureate in 2006. On making the appointment, Librarian of Congress, James H. Billington said, "Donald Hall is one of America's most distinctive and respected literary figures. For more than 50 years, he has written beautiful poetry on a wide variety of subjects that are often distinctly American and conveyed with passion."
In addition to the honor of being US Poet Laureate, Hall also won a Naional Book Critics Circle prize, membershipin the American Academy of Arts and Letters, and a National Medal of Arts, awarded by President Barack Obama.. New Hampshire Gov. Steve Merrill named him a Lotte Jacobi Living Treasure.
Hall was a member of the South Danbury Church and would often read publicly at events such as the annual church fair.
In the last few years, Hall had been less active as his health began to fail. He was in hospice care at his home at the time of his passing. He leaves a great legacy to those who knew him and to all who enjoy his depictions of life and history with their good times and bad times.
SERVICES: Calling hours will be held on Friday, June 29 from 5 to 7 p.m. at Chadwick Funeral Home, 235 Main St., New London, NH. A funeral service will be held on Saturday, June 30 at 1:30 p.m. at the South Danbury Christian Church, 1411 US Rte. 4, Danbury, NH. Burial will immediately follow in Proctor Cemetery in Andover, NH.