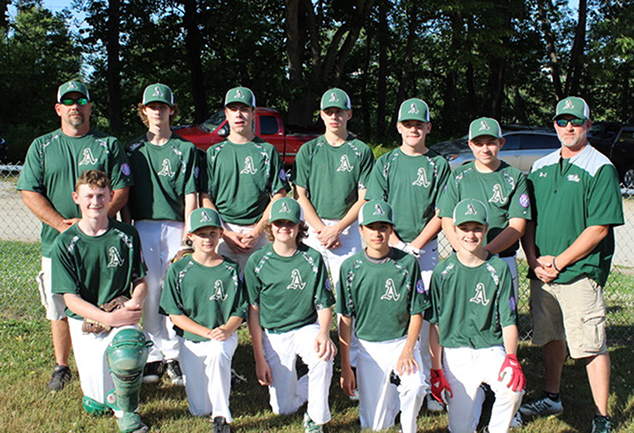 I can not recall the last time the town of Andover had its own 13-15 year Babe Ruth baseball team.  This year we hopefully started a tradition that will continue with the help of Gregor Makechnie, Mark Trombley, and Gary George as well as the rest of the Proctor grounds crew that maintained the field during this years usage, and Proctor Academy itself. Getting numbers to form a Babe Ruth team has been a tough goal over the past couple of decades. This year we were fortunate enough to have 12 young men to put together a team. Most of these young men have played together since T-ball, so keeping them together in a Babe Ruth program here in Andover was very special. These players are a very talented team. They finished up their season with a record of 11-5 counting playoffs. They fell short of winning the championship game by a score of 2-1 in the bottom of the 7th to Franklin. It was by far one of the most outstanding games I've ever been fortunate enough to help coach and take part of.
I'd like to give a special thanks to Justin Carey who has spent many countless hours not only helping throughout the years with the Andover Little League program, but also getting the ball rolling (no pun intended) putting together this past years team, and leading with the head coaching duties . We would also like to acknowledge Dan Mori for taking care of the book for us, as well as all the other parents who juggled their schedules getting their sons to the field, making sure we had plenty of drinks and ice.  We will be losing two players for next years team, Caleb Chevarie and Chase Keyser. We can not say enough about these two young men and the leadership roles they not only embraced, but were outstanding at. We hope to see some new faces next season if Proctors field schedule allows us to continue with use of the field.
To the players–Remember Fellas– there's no better place to be in the summer then on a baseball field, spending time with your buddies in a dugout. On behalf of Justin and myself, thank you to all 12 players who participated in the 2018 season.
If anyone could recall the last time the Town of Andover had a Babe Ruth program, I would be grateful if someone would contact the Beacon with the year.