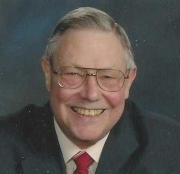 WOODBURY – Robert H. Rohrer, 84, of Lancaster, Pennsylvania, formerly of Woodbury, Vermont, passed away on August 31, 2018, at The Mennonite Home in Lancaster, after several years of congestive heart failure and dementia. Bob had resided at the home only since Aug. 9 and observed his 56th wedding anniversary and his 84th birthday while there.
Bob was born in Lancaster to the late Richard Peoples Rohrer and Susan Hager Rohrer. He is survived by his wife, Joanne (Kennel) Rohrer; and daughter, Elizabeth, Felton, Delaware, and her partner, Irene Horsley; and his son, Kenneth Lancaster. Bob's grandchildren are Zachary Rohrer and Molly (Rohrer) Pfuntner (Justin), both of Ithaca, New York. His oldest brother, Charles, passed away in 2015. His brother, Richard (Jean), also of  Lancaster, resides at The Mennonite Home and his sister, Susan Breig, lives in Wallingford, Connecticut. Sister-in-law Sally lives in Lancaster. Nieces and nephews also survive him.
Bob attended Eaglebrook School, Deerfield, Massachusetts; Proctor Academy, Andover, New Hampshire; Bates College, Lewiston, Maine; and attended York Junior College.
He served in the U.S. Navy and was stationed aboard the USS Coral Sea.
Bob was a bookbinder and worked for both Lancaster Press Inc., Lancaster, and Capital City Press in Montpelier, Vermont. After his retirement, he and his wife opened their large home as Lake House Bed 'n' Breakfast in Woodbury, Vermont.

His "loves" were "the river, the river, the river" (the family island in the Susquehanna River), camping and skiing. He was active with the Lancaster Ski Club and, after marriage, was a ski instructor in Pennsylvania and Vermont. He and his family moved to Vermont in 1968 and returned to Lancaster in 2007.
Bob was active in his churches: first the family church, First Reformed in Lancaster, then the Barre Congregational Church, the Waterbury Congregational Church, the Waterbury Alliance Church and the Woodbury Church in Vermont and then, upon return to Lancaster, served on the consistory of the Hamilton Park United Church of Christ.
Bob got lots of pleasure from being involved in Joanne's interests and was usually making props and scenery and bookshelves and stair railings, etc., for her many activities. He even, albeit somewhat reluctantly, played "Kermit the Frog" to her "Miss Piggy" and was Santa Claus to her Mrs. Santa!
He was an ambulance driver for Waterbury Ambulance Service in Waterbury, Vermont, for nine years and liked to say he took after his father who drove ambulances in World War I in France.
A memorial service was held on Friday, Sepember. 7, at 11 AM. in the Maugan's Chapel of the Hamilton Park UCC, 1210 Maple Ave., Lancaster, PA 17603. A visitation and fellowship time will be held in the chapel following the service. In lieu of flowers, memorial contributions in his name to Hamilton Park UCC would be appreciated. Special thanks go forward to all the wonderful staff personnel at LGH, Lancaster Hospice and Community Care, The Mennonite Home and the Groff Funeral Services. Please visit Bob's Memorial Page at www.TheGroffs.com.