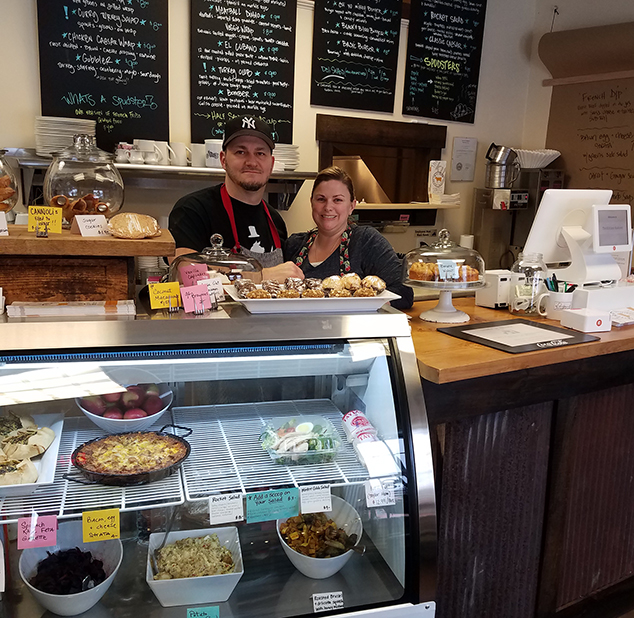 Looking for something a little different for breakfast or lunch? The Kitchen Eatery and Catering located at 46 Main Street might be the answer! Their website calls the food "Innovative craft food, made  a little different, but not over the top."
Owner and Chef, Michael Preete takes pride in cooking the meals from scratch. "We don't open packages here, we make everything from scratch," said Preete when my wife and I were there for lunch and managed to get him away from the stove for a couple of minutes. A look at the menu and one realizes right away that the food is not your average fare. When I walked in, my attention was drawn right away to a breakfast strata displayed in a glass case on one end of the counter. Not something you see everyday. Nor is the Roasted Brussel Sprout and Squash in a bowl next to it or the Spinach Kale Feta Gallets.  
Yes, they have egg and cheese sandwiches and French Toast with local Maple Syrup for breakfast, but they also have a breakfast Burrito and a Taco. Or perhaps you would want the Meat Scrambler with 12 hour Pulled Pork, or Ham, or Chorizo with one of the house specialties Smashed Spudsters.
Along with daily specials, the lunch menu is just as interesting. Hot sandwiches include a Turkey Reuben, Meatball Diablo, Brisket Grilled Cheese (I am going to try that next time) Po Boy Sub with fried Cod,  a Pork Roll Egg Sandwich and the Bomber Panini to name a few. There is an equally interesting list of cold sandwiches as well. Need beef? Yes they have burgers and a full compliment of salads as well. I had a delicious special of the day, a French Dip Roast Beef Sandwich.  
I am a devotee to good French Fries, which are not offered. Instead the house specialty called Spudsters are offered with a variety of seasonings and dipping sauce. The Spudster, which looks like an egg shaped "Tater Tot" is made from mashed potatoes and deep fried. I chose the garlic and parmesan with a mustard dipping sauce. I was a little suspect at first, but found them to be quite tasty. I'm not ready to give up French Fries yet, however.
Currently the staff consists of Preete and his wife Stephanie and Coleen Vaughn who greeted us when we arrived. Vaughn put us at ease right away when she realized it was our first time there. The dining area is cozy, only accomodating about 19 people. Vaughn explained that we could review the menu and order at the counter. After ordering, we chose a seat and the food was served to us at our table.
Preete, who started out as a dishwasher and worked his way up to becoming a chef is co-owner of the Kitchen Eatery and Catering in Portsmouth, NH and Portsmouth Catering  which is based in Hampton, NH. Their restaurants and catering service have both received awards for excellence in the last few years.
The location, next to Bear Hollow Trading Post and Naughty Nellie's Ice Cream, was most recently a bakery and before that was a restaruant for a short time. The location was found by Preete after he moved his family to a historic home in Salisbury Heights and began settling into the area. Preete stated that they were looking for an historic home in a community with good schools and good neighborhood. They fell in love with the house in Salisbury and moved there last year.
Stephanie Preete said that working in the restaurant is all new to her. She had always worked in retail until taking a few years off to be at home with her children. Now that the youngest is in school, and help was needed at the restaurant, she is enjoying learning the business and working with her husband.
Part of the reason the restaurant is open for breakfast and lunch only, is so that they can devote more of their time to their family.
Although they do not plan to be open daily for dinner, they are making plans to be open a few nights a week for dinner.
To learn more about the restaurant, menus and catering, visit www.TheKitchenAndover.com or call Mike, Stephanie, or Coleen at (603) 977-0128.