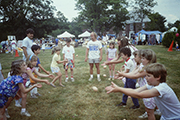 A new year, new members, new marching band and new games…we're off to a good start for this year's July 4th celebration!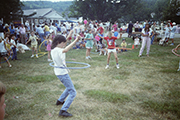 At our last committee meeting (which, by the way, is the first Wednesday of each month), we received news that the Muchachos Marching Band will be participating in our parade.  We were also pleasantly surprised to welcome two new members to our committee. Discussions included new games on the Village Green.

Work has begun on opening ceremonies. The A.E.M.S. students will be choosing the parade theme from the long list submitted last year.  Our committee is dedicated to bringing the community together at every opportunity. Thus, we would like to announce another benefit concert to be held on the evening of June 6th at the school amphitheater behind the town offices.

The committee also has something special planned…stay tuned! We are always open to ideas and suggestions to make the 4th in Andover better, so feel free to contact us or attend one or more of our meetings. For more information, contact Doug Phelps (phone : 977-0037 or email:  doug.phelps80@nullgmail.com), Donna French (phone: 735-6131 or email: donnafrench@nullcomcast.net) or Beth Frost (phone 735-5563 or email: bfrost99@nulltds.net).