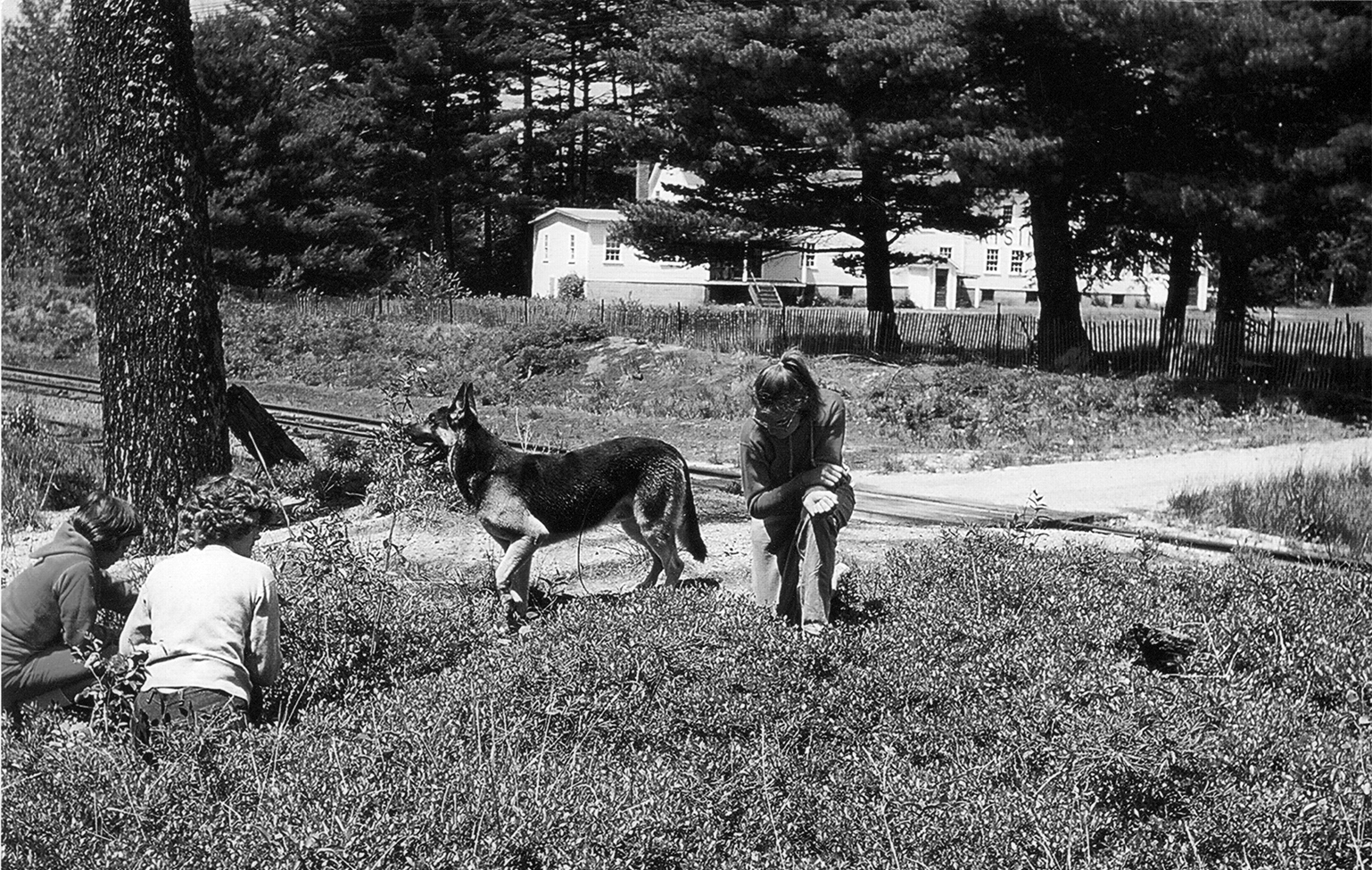 Going back to a time without computers, cell phones, Smart phones, Tablets, Kindles or any type of chip technology. No Facebook, Twitter, Texting or email. You actually had to talk to one another. No microwave ovens, no CD's, DVD's, back even before television. When radio was it and reception only if the weather conditions were right. A time when kids were all free range and if you couldn't get there on your bike or by walking, you didn't get there.
When the shop in Chicago, where my father worked, announced in the spring of 1948 that it would be closing, my parents made the decision that they would move back east to where their families still I lived. They sold their house and we, along with my sister. Marilyn moved, temporarily, back to Worcester, MA. to stay with my Aunt, Uncle and cousin Kaye, while they looked for a new home. My father John, was the son of a Game Warden who looked after a Royal hunting preserve in Sweden. My father, as a boy, roamed that preserve with his father and brothers and loved the forest and animals.
They searched in NH and in February of 1949, bought a piece of land in East Andover. It was about 16 acres and dad fell in love with the trees, some of which were huge. The house needed much work, but he being a carpenter, felt he could fix all it needed. That would have to wait until Spring as the snow in February was very deep. They quickly joined the Andover Congregational Church and we still have the Bible, signed and given to them on this occasion. My father had been a Mason in Illinois, so he also joined the Masonic Lodge in Andover.
I was quickly enrolled in the East Andover Public School, a two room schoolhouse. The building was located just up the hill from the Grange Hall. There were two teachers, Miss Gomo and Mrs. Thompson. According to my fourth grade report card there was also a Mrs. Davidson who I don't remember at all and my card was signed by Mrs. Elizabeth Thompson. The building is now the East Andover preschool. One ·of my teachers taught grades 1-3 and the other taught grades 4-6. I was put into third grade, in room one, along with Barbara Rising, Timmy Frost, Johnny Thompson, Jane Locke, Leona Barton, Marilyn Braley, Blanche Yeaton. Margaret and Edith Miller-and many others whose , names have slipped from my memory. For a kid used to a large public school this was an odd setup, but, as with most 8 year-olds, I adjusted. It was in this school that I learned to play baseball, mostly against Salisbury. I continued to play throughout grammar school and high school in Massachusetts. _ This school also had corporal punishment. An infraction of the rules meant 3 hits to an open palm of the culprit's hand with a ruler. A major infraction was 3 hits to the back of the hand, on the knuckles. These were not taps, they were hard enough to make the kid flinch and sometimes cry. There were two boys. names long forgotten, who had climbed over a neighbors fence and taken apples from his tree during recess. Stealing was a really major infraction and both boys got their hard hits in front of the class.
I became close friends with Barbara Rising, whose dad, Lawrence, was one of the partners in Rising & Charles, a business that built, repaired and reupholstered furniture. The building was behind our house on the other side of the railroad track which ran right behind our house. There was a daily train. When it left Boston it was known as "The Boston Cannonball". and after dropping most of it's cars in Manchester and Concord, as it passed behind my house it was known as "The Peanut." I believe it ended up in White River Junction, VT. We kids loved it and the train whistle would bring us to the back of the house where we would wave to the engineer and then to the conductor in the caboose.That railroad track is now the Northern Rail Trail.
I also teamed up with Johnny Thompson and Timmy Frost. They all lived on Maple St. and after school on most days I would go home, change my clothes and ride my bike back to Maple Street. Johnny's parents owned a dairy farm, Timmy had a pony named Tommy and Barbara's father had ducks, geese and various other birds behind their house. Since I loved animals and was crazy about horses, I was in my element.
Dad had started tearing out lath and plaster in order to insulate the house. The attic was so breezy a match could not be lit. It would blow out if there was any wind at all. Mom and Dad slept up there in a bed under a heavy blanket and a thin mattress. One good thing, there were no wall boards up there so the insulation went up quickly. My sister and I got to sleep downstairs. For heat we had a large, gray Glenwood wood/coal, stove in the kitchen and a kerosene space heater in the room where we slept. Both vented into our chimney. We installed a gas range for cooking, but I will always remember the aroma of real slow baked beans from the Glenwood. We had a dug well under the house with a pump. so we had running water that wouldn't freeze in the winter. We did not have a water heater so all water for bathing had to be heated on the Glenwood. Our phone was a party line with six families on it, we had to memorize which ring was ours. Most calls everyone picked up and listened to, so there was not much privacy. Oddly enough, I still have the same number that we got 70 years ago.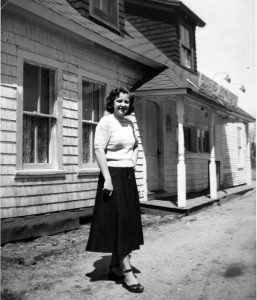 When Spring came and then summer my father's work on the house really began, taking down the rickety garage and putting in a dining room with several wooden tables with four chairs each. My parents were going to have a diner selling various meals, hamburgers, hot dogs, chips, ice-cream and sodas. We called it "The Red Shingle" and we had a jukebox and a pinball machine. We did pretty good. The baseball team would stop by after games and we had the 4H shows in the grove across the street. People going to and from the beach would stop, as well as cars passing by. I wonder if anyone remembers it?
My brother came east with his wife, Lois, that summer. They had been married the summer we had left Illinois. Dad and Dick enjoyed each other's company. They often went fishing and one day they took me with them. There was a place to rent rowboats on Highland Lake then. Dick had bought a beautiful, deep red casting rod and reel, and dad had a split bamboo fly rod. Me? I knelt in the front and dropped a string with a hook and a worm over the side. My brother and father were busy working their rods and nothing was biting. All of a sudden I felt a nibble and yanked the line. I pulled it up and had a 20 inch pickerel on my hook. My brother looked at me, at my fish and finally at his brand new rod. "Want to trade?" I think my father was thinking the same thing. We laughed over that fish for a long time.
The church and the grange were the center of social life in the town. Friday and Saturday nights there was always something doing at the grange. My sister, Marilyn, and the Thompson girls, along with Margie Frost (Fenton) and her sister Louise (Timmy's sisters) put on plays. We had pot-luck dinners, auctions, dances, Halloween parties. My sister would also take me to Cillyville on some Saturday nights. They would show movies, mostly western serials, Hopalong Cassidy, Pearl Pureheart, etc. I don't blame you if you don't remember them, it was a long time ago. They also had Bingo there and I actually won a live chicken once, and I, much to my mother's chagrin, wanted to keep it as a pet.

On most summer days we kids would go to get the cows in from the day pasture, which was across the road and out of sight from the house. It was quite a walk but we loved it. Johnny's sisters Madeline, Carolyn and Jane did the actual milking. Some days we kids would play in the Thompson yard. I remember Mark, Johnny's little brother, in a dog harness, tied to the front porch by a rope, so he could be out with the bigger kids and in no danger of going onto the road. He would happily play in the dirt with his trucks, shovels and pails. Practice for the company he would one day, come to run. On other days, I would get to ride Tommy, usually bareback. He was blind in one eye. Something startled him one day and he threw me over his head and ran right over me. Luckily, he was a Shetland pony and not very big, I got up and on him again, it didn't bother me at all.

Johnny's father, Alan Thompson, kept several teams of horses. His passion was collecting working wagons in any form; buckboards, surreys, sleighs, just about any conveyance you could imagine. His pride and joy was a Concord Coach (stagecoach of western fame). On the 4th of July it was proudly driven down Main St. in the parade, which was much larger than what it is today. The coach was hauled out on any noteworthy occasion. He loved the art of driving teams. When Camp Marlyn closed up for the season, Mr. Thompson would take one of their riding horses to keep until the camp opened again. That summer it was Blue Blaze, a large blue Roan, with a long blaze on his face and four stockings, out-fitted with an English saddle and bridle. I don't remember who asked me if I'd like to ride him but I jumped at the chance. After tangling my feet into the stirrup leathers since my feet didn't reach the adult stirrups, much to my delight I was sent on my way, alone. That was the first time I had ever been on a full sized horse, let alone by myself. We headed up Tucker Mtn. Rd., a long dirt road. with, I believe, a farm at the very end. I was so happy and we rode quite a ways up when I turned to come back. As we were nearing Maple St. I noticed a figure in a tan coverall, in a field to my right, and three or four bee boxes. He was lifting out sections of comb honey and the bees were not happy. I did not get stung but Blue Blaze did. He reared and ran, full gallop down the road, turned right on Maple to the Thompson driveway and up into the open barn. Luckily, my hands were small enough to fit under the English saddle pommel, which had no horn like a western saddle does, and I rode Blue Blaze at a dead run and stuck on him like a tick. I slipped off his back when he came to a halt inside the barn. A bunch of people came, worried that I might be hurt. I explained what happened and found out later that Barbara's father kept the bees. I was never allowed to ride Blue Blaze again. I thought it was really unfair.

I was also friends with the Miller girls up the street from me, beyond the stream that was our property boundary. They were our closest neighbors. Edith and Margaret often visited my house and I went to theirs. Their father had a Whitetail buck head and shoulders mount that was huge. The story told was that he had been attacked by the deer, while it was in the rut. It was not hunting season and the deer pinned him against a large tree, trying to gore him, the longest rear tines straddling his body, stuck into the tree so they could not reach him. He wasn't armed but did have a knife and stabbed the deer several times, hitting the lungs. It finally died and he had it mounted. The tines were easily wide enough to span a man's body, so I believed them. They had great sledding in their yard and many winter days were spent there. Their brother, Elsworth (Smiley) about 16 at the time, had a handmade toboggan that we often used, mostly ending in crashes. What did I know? I was eight and having a great time. I also remember a not so great time. We would ride to school on the school bus and one time, when it stopped to pick up the two girls, I believe it was Margaret who came out and told us that her little brother, David, had died of a burst appendix that morning and they would not be going to school that day. I remember David as a really sweet 3 or 4 year boy and I felt awful.

That first summer also brought me a puppy. Shep was a German Shepherd/Collie cross. One of 12 puppies born on a farm in town. Dad asked Mr. Augherton, a friend of his and, I believe a fellow Mason, if he would go and pick out a puppy for us. Shep was picked because she stood out by perching atop a large manure pile. She grew up to be a great dog and protected my mother and sister one night at the diner, from a very drunk man, with a bottle, who insisted that they were going to drink with him. Shep jumped down from the her chair where she always slept, stood in front of him, head down, with bared teeth, snarling. He left quickly. This was just before closing as I slept peacefully upstairs.

Summer Sunday School was held, I believe, on Wednesdays, at a farm on Flaghole Road. The school bus would pick each of us up at our homes, take us to the farm (sorry, I don't remember which one, other than it was on the left going towards Franklin) and bring us back after two hours. This is something that wouldn't be allowed nowadays, with separation of Church and State. We, in the Sunday school would be divided into two age groups. The older group to which Barbara and I belonged, were free to roam over the fields, looking at steer skulls lying on stone walls and an enclosed Indian cemetery, while the younger ones were being taught. After an hour they would be turned loose and we would study. I do remember that we studied at tables under three huge trees, I seem to remember them as Maples.
Marilyn taught Sunday school on Sundays. She had looked for a car in order to find work in Franklin and bought a Model A Ford, a tin Lizzie, as they were called. (When my brother came for his summer vacation he took my cousin Kaye and I for a learn-to-drive ride in our baseball field across the street. Kaye remembers it vividly.) Marilyn worked for Mr. Frank Poblenz, the local photographer. This was before color prints and Marilyn's job was to colorize photos using a form of oil paint that was almost transparent and didn't cover the photo but lightly stained it to show skin, eyes, lips, hair and clothing in it's actual state. It was painstaking work and Marilyn excelled at it. Marilyn also had a side hobby. Dad would cut down a White Birch tree about 4-5 inches in diameter. He would cut the trunks up diagonally so they would be an elongated oval about ¾in. thick and 4×6 in. width and length. These would dry, be sanded smooth and then she would paint hunting dogs, bass, pickerel or any theme to do with the outdoor sports that were so loved by the people of this part of the country. After painting she would seal the wood and paint with, I think, Shellac.
The next fall and winter came and I was now in fourth grade with a new room and new teacher. Dad had been trying to find work and it was proving difficult. The money from the sale of their home in Illinois had run low and the diner didn't make enough as the cold weather set in. If you didn't have a business of your own or a relative who would hire you,  jobs were few and far between. I don't know how but he finally found a job, driving a truck out of Elmira, NY. Mom and Marilyn still ran the diner and dad appeared every few weeks when his job brought him to the area. I remember one time, he had called and said he would be home that evening. The hours passed and mom really began to worry. Every time she looked at a clock her fear increased. I went around turning the clocks around so she couldn't see them, hoping that if she didn't see the time she wouldn't worry. She noticed but didn't say anything to me and finally, dad came. I don't remember what kept him, we were so happy he was there.

That was a long and cold winter. One morning mom took a call, there was to be no school that day, the actual temperature was -38 degrees; It was not windchill or any other thing they announce today making it seem colder than it actually is. It was 70 degrees below freezing! We did not have insulated anything to wear and the temperature was truly life threatening. I was not allowed to go out all day even though the sun was brilliant. I contented myself to drawing with my fingernail in the 1/4″ of rime frost growing inside our windows.

As the winter eased into maple sugaring time we were invited to the Frost home for a hot syrup throwing party. There is a name for it but I don't remember what it is. Mom stayed with the diner and Marilyn took me to the party. Tim and I went to search in the woods for really clean snow, not easy in March. We carried a shallow, steel wash tub and when we found clean snow we we scooped it up, moving from pile to pile until the tub was half full. We placed the tub next to a fire where the syrup was hot. A ladle of some sort was used to scoop up the hot syrup and it was thrown onto the bed of snow. It would freeze instantly, forming a lacy, thin filigree of solid maple syrup. Delightful to either lick or crunch, which ever way you liked best. Never got to do it again but I remember it vividly.
As spring and summer came mom and dad realized that we had to move to a place where dad could work and still be at home. Long distance trucking was not going to work. They decided to move back to Worcester. In late summer they rented an apartment in the tenement were my aunt, uncle and cousin Lived. We moved but kept the house in NH where mom and dad would retire in 1962, to spend the rest of their lives in the place they had grown to love. Every available weekend was spent back in NH. Dad continued to renovate the house. He put in central heating and moved the stairs, which at the time led to a trap door to the attic. We dug out the earth and put in a foundation under the house. which was shockingly missing when the house was built a long time ago.

All of our summers were spent there. especially during the polio outbreaks that plagued summers in MA. My mother along with her sisters Elsie and Nea and their kids, my cousins, Kaye, Gail and Judy. My brother would come with his family, over time including his three girls for their vacation. We spent long, lazy days playing, climbing Kearsarge, going to "The Taste of the Wild" (where we watched them make local, wild berry jams. They were written about in the "Reader's Digest."), swimming and picking our own wild blueberries. Each of us would be given a cup and asked to fill it and my mother would bake a pie for dinner that night. They didn't have to ask us twice. My father would spend his two week vacation with us and, when possible, he would bring my uncles with him. so they could also be with their families. None of us missed TV, which we all had by that time in MA. We got up with the sun and followed it to bed. I learned to play chess and poker as well as many games of Monopoly, Clue and got to be a crack shot with a BB rifle, lever action .22 and .38 revolver. Dad being a hunter it was inevitable.
I too, would leave New Jersey & Manhattan and come home to New Hampshire in September of 1972. All in all it was a wonderful time to be young and a great place to be a kid. To live a life fully. in a world of fierce individuality that really doesn't exist anymore. To have been a part of it has been an amazing experience that I wouldn't give it up for anything.