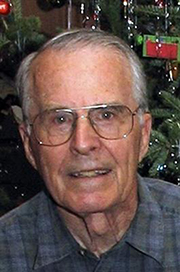 George Thomas Upton died peacefully at his home at Oakley Place in Topeka, Kansas at the age of 95 on February 4, 2019. He was born in Concord, NH on December 26, 1923, son of former U.S. Senator Robert Upton and Martha (Burroughs) Upton and graduated from Concord High School in 1942 and Massachusetts Institute of Technology in 1945.

In 1943, he enlisted in the Navy to complete his education under the Navy V-12 Program. He attended officer training school at Notre Dame following graduation from MIT. After commissioning as an ensign, he married Barbara Lois Sargent of Concord in November 1945. He was assigned to the Naval Air Station at Quonset Point, Rhode Island and discharged to inactive duty in 1946. In 1946 he was hired as an aerodynamics engineer by Chance Vought Aircraft and remained with the company until his retirement in 1979. He relocated to Dallas, Texas with the company and eventually rose to Engineering Vice President and Program Director.
During his career, he made significant engineering contributions to five major military aircraft programs, including the venerable Navy F-8 and A-7 fighter plane series, and in 1976 was named as a Fellow in the Institute of Aeronautics and Astronautics.

After retirement he moved with his wife to Andover, New Hampshire to fulfill a lifelong desire to return to New England. He served as a local selectman for seven years, helped found the Andover Historical Society, served as a member and later chairman of the board for the Spaulding Youth Center, and was a member of the Andover Lions Club.
For leisure, he enjoyed sailing on NH lakes as well as downhill and cross-country skiing. He and Barbara skied throughout New England and the French and Swiss Alps. They celebrated 60 years of marriage in 2005 with a family reunion in Bretton Woods, NH.
They moved to Topeka in 2009. George lived a long, full life characterized by integrity, thoughtfulness, kindness and service to others. He loved good engineering, new technology and all things Apple. After his move to Topeka, he was noted for his loving care of his wife, Barbara, and his patience and perseverance through the difficulties of aging. Those who met him appreciated his ability to listen and his sometimes humorous, but always thoughtful responses.

George was predeceased by his wife Barbara in 2014 and brothers Richard, John Gilbert, Frederick, and Allan, and sister Elise. He is survived by his son, Thomas (Nancy) Upton of Santa Barbara, California, and two daughters, Susan (Tom) Hudiburgh of Carrollton, Texas, and Nancy (Hank) Nelson of Topeka, Kansas and six grandchildren Ryan (Airi) Upton, Lindsay Upton, Stephanie Hudiburgh, Heidi Nelson, Emily (Bjorn) Larson, and Ben Nelson. His three great-granddaughters, Annalise, Evelina, and Lucia Larson delighted him in his last years.

A private graveside was held on February 13th at Memorial Park Cemetery and a memorial service was planned for 11 AM on February 23, 2019 at Topeka Bible Church, 1101 Mulvane St, Topeka, Kansas. Memorial contributions may be made to the Andover Historical Society, PO Box 167, Andover, NH 03216. To view pictures and leave condolences for the family, see www.davidsonfuneral.com.