Published in the Concord Monitor on February 21, 2019. Reprinted with permission.

A murder 52 years ago in Andover that turned cold only months after it had been committed has been solved, the Attorney General's Office announced Wednesday.

Investigators in the state's Cold Case Unit, who reopened the case in 2013, determined that 49-year-old Everett Delano of Wilmot Flat, a Navy veteran, was shot three times in the head by career criminal Thomas Cass of Vermont on September 1, 1966. Delano was working for a friend, the owner of Sanborn's Garage on Route 4, when he was shot.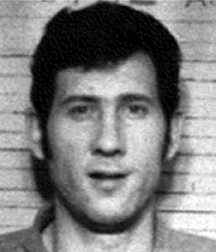 Cass killed himself with a single gunshot to his head, on February 24, 2014, after investigators had met with him three times at his home in Orleans, Vermont. Fingerprints left at the garage had tied Cass to the murder 47 years later, thanks to renewed police interest and updated forensic testing.
Cass had told those close to him he would never return to prison.
Evidence at the scene showed that Delano had been shot twice in the head while standing and once more after he had fallen to the floor. He was found by several customers in the garage's office, lying in a pool of blood, still alive. He died a day later, on September  2, 1966, at Mary Hitchcock Hospital in Lebanon.

About $100 was missing from the cash drawer, but $500 hidden in a box below the counter was left behind.

Investigators could not solve the murder through the final four months of 1966 after interviewing numerous people who had either arrived after the crime or heard gunshots.

The case wasn't solved for decades because the FBI's Automated Fingerprint Identification System had not been fully developed by 1966, nor were guidelines on submitting prints to a national center. The New Hampshire State Police Forensic Laboratory began using the system in 1998.

Prints found on a running faucet near the office were sent to the FBI in '66, Susan Morrell, the head of the Cold Case Unit, confirmed Wednesday, but she had no information as to whether the FBI did any testing and wondered if results implicating Cass would have even shown up.

The break in the case came when investigators reopened the case in 2013. The prints revealed a man with a lengthy police record, including possession of a sawed-off shotgun, armed robbery while wearing a mask, aggravated assault and manufacturing drugs at a federal prison.


Following the three interviews – at which time Cass was told evidence existed linking him to the crime and a search of his house failed to find the murder weapon – he shot himself in the right side of his head, a handgun found near his body.

Cass was 20 at the time of the murder, 71 at the time of his own death.

Delano died at age 49. He was married to Blanche Sanborn, who died in 2006 at the age of 78. The family asked for privacy on Wednesday. One of Delano's children, Darlene Delano, submitted a statement to the press.

It read, in part, "Our family would like to take the opportunity to not only thank the initial investigators of our father's homicide, but also the New Hampshire Cold Case Unit. Without their diligent efforts, we would not be here today. We are happy this day has come where our family has been given a small measure of justice.

"For almost 53 years, our family has wondered what happened on September 1, 1966. There was a very long time our family didn't know if we would ever receive the answers about what happened that day. Today, our family has the long overdue answers we have been waiting for."

Delano's murder was not originally filed with the Cold Case Unit when it opened in 2009 "likely due to its age," the AG's report said, and was added only after an inquiry as to why it wasn't on record was made by a member of Delano's family in 2013.

From there, it took only months to crack the case. Morrell said Wednesday that her office waited more than five years to announce its findings due to routine verification procedures, made more difficult because her department lacked the full-time resources needed to go public in a timely fashion.

Morrell added that the information did not fall through the cracks and catch her office by surprise, saying, "I don't believe it was ever lost."

She said the department's efficiency suffered after its lone full-time prosecuting attorney, Will Delker of Concord, was promoted to superior court judge in 2011, leaving only part timers on staff. Morrell recently was moved to full-time duties in the unit, replacing Delker, and hopes the next state budget will include money for two more full-time prosecutors.
"Between 2014 and now, there has not been an attorney here who is dedicated to working on these cold cases," Morrell said, "so those types of reviews take time and effort, and even during that review process more work had to be done."