The Andover Budget Committee recommends budgets for 2019 (net of expenses that are funded by non-tax sources) are as follows: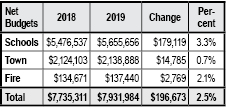 The total of the net budgets recommended for 2019 is $7,931,984.  This is an increase in budgetary spending to be funded by taxes over the previous year of $196,673 (up 2.5%),

What effect this increase in budgetary spending will have on the 2019 tax rate depends on the amounts of other offsetting revenues that become available.  If there are none, the total tax rate for 2019 is estimated to increase by $1.34, up 5.7% over the total 2018 tax rate of $23.47.
Andover School Budget
The recommended appropriation for the Andover School District for fiscal year 2019-20 is $5,655,656..  This is up $179,119 (3.3%) over last year. An estimated balance in the building contingency fund of $274,000 plus unexpended revenues in the general fund for the previous year will be applied as revenue to reduce the tax burden.  The return of these previous tax payments should result in a reduction in the School tax rate for 2019.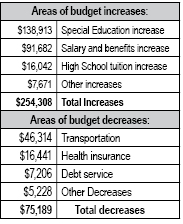 Andover Town Budget
The recommended 2019 budget for the Town, including warrant articles, is $2,427,199.  This is offset by non-tax transfers of $288,311 from the Unexpended Fund Balance and Capital Reserve Funds, resulting in a net budget to be covered by taxes of $2,138,888.  This is up over the 2018 net appropriation by $14,785 (less than 1%), and would increase the Town tax rate by $0.06.

However, in 2018 an amount of $150,000 from the Unexpended Fund Balance was applied as revenue to reduce the tax burden for that year.  If a similar reduction is not available this year, the 2019 Town tax burden will be up an additional $150,000 to $162,285 (up 13.0%) over the 2018 reduced tax burden.  The Town tax rate would then increase from the reduced 2018 rate of $4.84 to $6.47 for 2019, an increase of $0.63, (up 13.0%)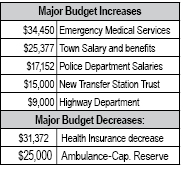 Andover Fire District
The recommended 2019 net budget for the Andover Fire District is $137,440.  This is up $2,769 (up 2.1%) from the net budget for the previous year.
Annual Meetings
• The meetings at which these budgets will be discussed and voted upon are:
• Andover School District Meeting — Monday, March 4, 2019, 7:00 PM
• Andover Fire District Meeting — Tuesday, March 5, 2019, 7:00 PM
• Andover Town Meeting – Tuesday, March 12, 2019, 7:00 PM