To save time and money by reducing the size of the Town's annual Andover Town Report, the Beacon has agreed to publish 2018 reports submitted by organizations that serve Andover. Long reports have been edited to about 250 words.
The Andover Beacon
In many ways, 2018 was another successful year for The Andover Beacon — our fourteenth year serving our community.
We delivered 11 issues at no charge to every mailing address in Andover, each issue filled with Andover news you can't get anywhere else: Town News kept us all informed about budgets, elections, meetings, and everything that makes our town work.
Non-Profit News kept all the important, interesting work of Andover's many non-profit organizations in the public eye.
School News … an endless stream of kids working, playing, achieving, … and learning to be our future leaders.
Andover People are always in the news in the Beacon!
Andover History comes alive in each issue.
The Arts, from Andover's own Coffeehouse to shows and events throughout the area.
Outdoors News is always important, given Andover's great natural beauty.
Business News helps our local entrepreneurs get some well-deserved attention.
The Andover Beacon is a 501(c)(3) non-profit corporation whose sole purpose is to serve and strengthen the community of Andover. With advertising revenues continuing to decline and expenses continuing to rise, we must rely on donations from the community for an ever-larger part of our annual budget. So when asked, please donate as generously as you can. We simply can't do this without you!
Andover Community Hub
The highlight of 2018 for the Andover Hub and the Andover Community Association was the work their leaders did to merge the two groups into a single entity called the Andover Community Hub. The Community Hub brings together the Andover Community Association, which had non-profit status but no physical facility of its own; and the Andover Hub, which had a physical facility — Andover's old town hall — but no non-profit status. The new organization has both.
Among the first orders of business in 2019 will be to form a governing board representative of all segments of the community and identifying new sources of revenue for building renovations and maintenance. Area residents interested in supporting the Community Hub through donations of time, funding, and/or expertise may contact the organization at TheAndoverHub@nullgmail.com.
Public events and activities from the two founding organizations will continue under the Community Hub umbrella. These include Andover Community Coffeehouse concerts, Andover Institute programs, and a wide variety of events held in the Hub.
Founding members of the Community Hub are Deb Brower, Susan and Larry Chase, Paul Currier, Pat Cutter, Gisela and Steve Darling, Jay Fitzpatrick, and Grace Schust. For more information, visit Andover Community Hub on Facebook.
Andover Energy Group
In 2019, the Andover Energy Group (AEG) enters its ninth year as a voluntary organization with two major goals: to identify ways to reduce the Town's energy bills; and to find and publicize ways to help local residents reduce their home energy costs.
In 2018, the AEG addressed both goals. It began the year by helping the Town of Andover put the finishing touches on a major project begun a year earlier to "solarize and weatherize" the Town Hall by adding solar-electric (or photovoltaic) panels on its roof, by installing a heat pump to further save on energy costs, and by improving insulation and air-sealing measures.
As the year ended, AEG began a collaboration with five neighboring towns to encourage homeowners to take specific measures to improve comfort and reduce the cost of heating their homes. This project, known as Weatherize Kearsarge, is being undertaken this winter and spring. It will be followed by a second project, Solarize Kearsarge, to encourage homeowners to further reduce their energy costs by adding photoelectric systems on their property.
For more information, contact LBChase@nullaol.com.
Andover Fish and Game Club
The Andover Fish and Game Club (AFGC) was started in 1933 and is one of the oldest clubs in New Hampshire. Anyone can join, and memberships are currently $10 a year. Each year we have various fundraisers, events for kids and members alike, and community-minded projects.
Each year we have a Beef Barbecue and Chinese auction, a Turkey Raffle, and other raffles that help us make money to have events for kids and members. Money is also needed for general expenses, upkeep, and improvements to the Channel Road club house.
These are some of the things we do and provide for the community each year:
We have an ice fishing derby and a spring trout fishing derby for the kids. We also have a member-anyone trout ice fishing derby. We are sending four kids this summer to the Barry Conservation Camp in Berlin for a week. We have a rabies clinic, deer pool, and an adopt-a-highway stretch of road that we clean up on Route 11. We have informational speakers and seminars about a wide range of topics. We have assisted the local game wardens in a variety of ways.
Our meetings are the last Tuesday of each month at 7:30 PM at the club house in East Andover. If you have questions or would like to join, call 934-4961.
Andover Historical Society
Andover Historical Society (AHS) enjoyed a very busy 2018. Events and activities included New Hampshire Humanities talks in June and October; a Richard Potter talk by John Hodgson; museum exhibits focusing on World War I and Richard Potter; the first annual history contest for AE/MS students; the "Round Robin" for fourth-grade students of Andover, Salisbury, and Webster; the Fourth of July exhibit on the Village Green and in the Andover Community Hub; the annual Old Time Fair in August; new signage for the Richard Potter gravesite; and the Winslow Eaves and Annaleida van't Hoff Art Retrospective at the Andover Community Hub in October.
In November, the reins of AHS were handed from Jesse Schust to Gail Richards. Thank you to Jesse for all he did during his two years as president; following in Pat Cutter's shoes was no easy task. We welcome Gail, who has been a part of AHS for many years.
Thanks also to the 30+ new members who joined AHS in 2018, and to the donors of more than 150 historical items to the AHS collection.
For more information, visit AndoverHistory.org or contact Pres@nullAndoverHistory.org.
Andover Service Club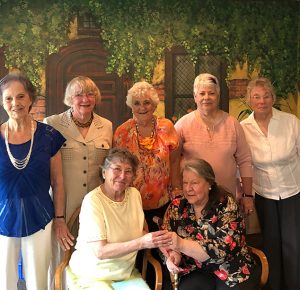 Andover Service Club (ASC) celebrated its 60th anniversary in 2018. ASC is an all-volunteer, 501(c)(3) non-profit organization of 68 women from Andover and neighboring communities. Its mission is to be of service to people of the community and the state and to broaden and strengthen the social and intellectual life of its members.
The ASC Thrift Shop sells almost-new clothing and accessories to fund the ASC Merit Scholarship Program, which has benefited hundreds of Andover high school and continuing education college students since 1959.
ASC also donates to other community organizations such as Andover After-School Program, The Andover Beacon, Andover Boy Scouts and Girl Scouts, Andover Children's Thanksgiving, Andover Community Association, Andover Elementary/Middle School, Andover Emergency Services Auxiliary, Child and Family Services, Danbury Elementary School, Danbury Food Pantry, East Andover Village Preschool, Friends of the Northern Rail Trail, Highland Lake Grange Hall Restoration, Kearsarge Council on Aging, and Twin Rivers Food Pantry.
Other fundraisers include raffles, the Proctor Birthday Cake project, luncheons on Election and Town Meeting days, in-house auctions, treasure, and bake sales, Thanksgiving pie sales, the Fourth of July Slices for Scholarships sale, and annual Arts and Craft shows.
Thrift Shop hours are 10 AM to 4 PM on Tuesday, Wednesday, and Thursday and 10 AM to 2 PM on Saturday. ASC meetings are held on the second Wednesday of the month from September through June at 10 AM in the Highland Lake Grange Hall.
Ausbon Sargent Land Preservation Trust
The mission of the Ausbon Sargent Land Preservation Trust (Ausbon Sargent) is to protect the rural landscape of Andover and 11 other area towns. Since our founding in 1987, Ausbon Sargent has completed 147 projects and protected 11,481 acres, including 15 working farms and over eight miles of lake frontage.
Two-thirds of these properties offer public access, contributing significantly to the quality of life and economic well-being of the State and our communities. AusbonSargent.org indicates which protected properties have trails for hiking, cross-country skiing, and snowshoeing.
Ausbon Sargent hosted numerous events in 2018 such as the Progressive Dinner in July and the Holiday Party in December. We also held our seventh and final Kearsarge Klassic Bike Event and our popular Dragonfly Walk in Grantham. We also held workshops on conservation options for landowners, on the new tax law, and on becoming an easement monitor.
Ausbon Sargent is grateful to have over 200 volunteers providing year-round support for easement monitoring, committee assignments, and clerical work, plus many giving members who provide financial support.
If you would like to join in our work to protect these special places, you could become a conservation easement donor, support Ausbon Sargent financially by becoming a member, volunteer your time to the organization, or encourage town officials throughout our 12-town region to conserve our rural character by supporting land conservation.
We are especially thankful for the good relationship we have with the Andover Conservation Commission. We hope to continue the collaboration in the future!
Lakes Region Planning Commission
The Lakes Region Planning Commission (LRPC) is a voluntary organization of 30 member municipalities striving to respond to and shape the pressures of change in a meaningful way, both locally and regionally, through communication, joint initiatives, and planning.
LRPC's professional staff provide regional planning services in the areas of transportation, land use, economic development, watershed management, and natural resource protection; local technical assistance with master plans, capital improvement plans, hazard mitigation plans, ordinance review, and circuit rider consulting; GIS mapping services; data collection and analysis; and review of Developments of Regional Impact.
John Cotton and Robert Ward are Andover's representatives to LRPC.
In 2018, LRPC worked with Andover Planning Board members on reorganizing and reformatting the zoning ordinance and incorporating six amendments approved in March.
We discussed with the Town Administrator the role that LRPC can play in facilitating the review and improvement of site design and materials management. We reached out to the Transfer Station with research regarding Transfer Station Site Plans and Management and arranged a meeting for a site visit and discussion.
Andover participated in our annual regional Household Hazardous Waste Collection at a substantial group savings. This enables residents to safely dispose of their household hazardous waste as a means of protecting the region's groundwater that we depend on for drinking water, domestic use, and tourism.
Finally, LRPC facilitated the bulk purchase and distribution of the New Hampshire Planning and Land Use Regulation books to the Town at a substantial discount.
New London Hospital
New London Hospital (NLH) celebrated its 100th anniversary in 2018. We continued to expand our medical staff, enhance our clinical services, and acquire advanced technology. High-quality, safe, and compassionate care of our patients continues to take center stage.
We are in our sixth year of our relationship with Dartmouth-Hitchcock Health (D-HH). This brings health care experts into the community so residents are not required to travel to receive academic-level care.
Our EMS team launched our new Mobile Integrated Health Service to visit patients in their first 24 to 48 hours after discharge, ensuring that patients' needs are being met at home, thus reducing unnecessary readmissions.
The Meditronic O-arm provides a real-time image of a patient's anatomy during minimally-invasive spine surgery to ensure unparalleled safety and accuracy.
The BioFire FilmArray TORCH cuts test result wait times from days to just two hours. Precise treatment can start more quickly, with better outcomes.
The higi health station in our main lobby allows guests to "own their own health" by checking and tracking their "numbers" in many categories, including weight, BMI, pulse, and blood pressure.
Our D-HH membership has increased revenue by improving the availability and quality of the medical services we offer. We benefit from joint purchasing and from better investment, audit, and refinancing services. The result is a strong balance sheet, improved cash position, stronger revenue growth, and reduced expenses in some areas.
The support of the community throughout the year has humbled us, from Hospital Days to the Annual Benefit to the 100th Anniversary Concert. We are truly appreciative of people's engagement and participation.
Sunapee-Ragged-Kearsarge Greenway Coalition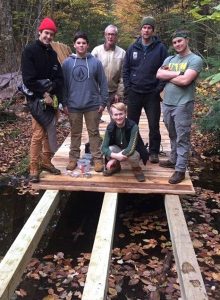 The Sunapee-Ragged-Kearsarge Greenway Coalition (SRKGC), founded in 1993, is an all-volunteer, non-profit organization to promote hiking and land conservation. The 75-mile SRK Greenway (SRKG) links Mount Sunapee, Ragged Mountain, and Mount Kearsarge.
Hiking trails are an important benefit to the community, with associated recreational, economic, and health benefits. Much of the SRKG passes over private property and would not exist without the generosity of many landowners.
The SRKG extends through ten towns, with 9.4 miles in Andover. In September 2018, the SRKGC posted a detour of the Greenway while Eversource is working on the power line which crosses Dawes Road.
SRKGC, Ragged Mountain Fish and Game Club, and Proctor Academy reconstructed a trail bridge between Proctor and Balancing Rock in 2018. Thanks to the many volunteers and to the Quabbin to Cardigan Partnership for materials!
In January 2018, the SRKGC sponsored an intensive two-day Wilderness First Aid course at Colby-Sawyer College. Over 100 people participated. The SRKGC hosted a trail maintenance day in the spring to clear and re-mark the SRKG from Proctor, over Ragged, to New Canada Road.
Anne Hewitt and Sooze Hodgson are Andover's members on the SRKGC board. Many individuals help keep Andover's portion of the SRKG repaired and blazed, and we are always looking for more help: e-mail us at SRKGC@nullsrkg.com.
SRKG.com has maps of the entire Greenway, hike schedules and events, landowner information, re-routing of trails, membership details, and links to other hiking trails in New Hampshire.