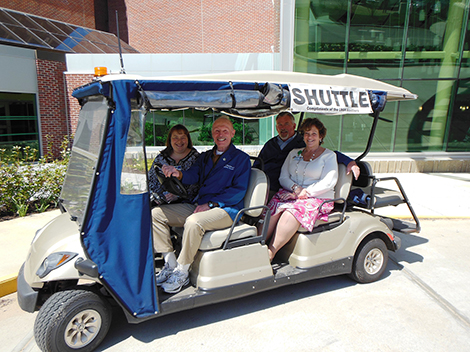 Have you been searching for a fun and rewarding volunteer opportunity? Do you have a cheerful and accommodating personality? If so, Lakes Region General Hospital would love to have you on their team!
LRGHealthcare Volunteer Services is searching for a few personable and reliable volunteers to shuttle patients and guests from their vehicles to the main entrance at LRGH and then back after their visit. Mode of transportation: the Courtesy Golf Cart!
Applicants must be 18 years of age or older and have a current New Hampshire driver's license. Shifts are 8 AM to noon or noon to 4 PM and the shuttle will run Monday to Friday from May 1 through October. The days/number of shifts volunteers choose to work is optional. Weekend opportunities are also available.
The Courtesy Cart, donated by the Lakes Region General Hospital Auxiliary, transported over 4,000 hospital guests in 2012, and is a valued service offered at Lakes Region General Hospital. LRGH hopes to find volunteers who are courteous, dependable, and always ready to greet guests with a smile.
If you're interested in this great volunteer opportunity please contact LRGHealthcare Volunteer Coordinator Darcy Peary at 737-6720 or dpeary@nulllrgh.org.
LRGHealthcare is a not-for-profit healthcare charitable trust representing Lakes Region General Hospital, Franklin Regional Hospital, and affiliated medical providers. LRGHealthcare's mission is to provide quality, compassionate care and to strengthen the well-being of our community.