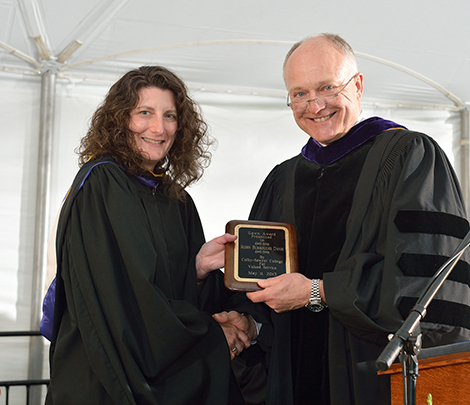 Robin Burroughs Davis, Associate Dean of Students and Director of Citizenship Education at Colby-Sawyer College and a resident of Andover, received the Gown Award at the college's commencement on Saturday, May 11. The Gown Award is presented each year to an individual from Colby-Sawyer College whose work and contributions in the New London area are extraordinary.
During Colby-Sawyer College's 175th anniversary, Dean Davis and her colleagues coordinated an effort to engage Colby-Sawyer community members in 175 Acts of Service in the New London area. Dean Davis sought and selected volunteer opportunities with a focus on the college's strategic themes of Engaged Learning, Living Sustainably, Linking to the World, and Dynamic Devotion to Excellence. The college community was invited to participate in service projects in public schools, the arts, pediatric and elder care, sustainability and the environment, historic preservation, and cancer fund-raising and awareness, as well as global service projects including a relief mission for Hurricane Sandy victims and support for troops overseas.
Vice President and Dean of Students David Sauerwein, who nominated Dean Davis for the award, emphasizes that she deserves recognition for her leadership at the college and in New London as well as for her own commitment to service. "Robin's commitment is strong," says Dean Sauerwein. "In addition to her work in developing good citizens on campus, she volunteers to support victims and survivors of domestic and sexual violence."
Since 1997, Dean Davis has volunteered at the Crisis Center of Central New Hampshire, which serves the greater Concord area and Merrimack County. In addition to staffing the agency's crisis line, she has served on the Center's Board of Directors as Vice Chair and Chair and is currently its secretary.
"I am very proud of the work that the agency does," says Dean Davis. "We have a small staff and a small budget and rely heavily on volunteers, but we make a huge difference in the lives of those who come to us."
Dean Davis began her career at Colby-Sawyer in 1996 as Director of Citizenship Education. In 2002, she was promoted to Assistant Dean of Students and then to Associate Dean of Students in 2005. Today, in addition to her leadership roles, Dean Davis is an adjunct faculty member in the Social Sciences and Education Department. She has also been involved in the college's Quantitative Literacy efforts, has participated as a Leadership Program speaker, and serves as advisor to Student Government Association and class boards.
Dean Davis holds a BA in English Literature and an MS in College and Community Counseling from Longwood College in Longwood, Virginia.
The commencement ceremony celebrated the success of 260 seniors and recognized multiple students and other individuals for academic excellence, outstanding contributions to society, and service to the college and community.
For more in-depth information about award recipients and Colby-Sawyer's 2013 commencement, visit Colby-Sawyer.edu/commencement.