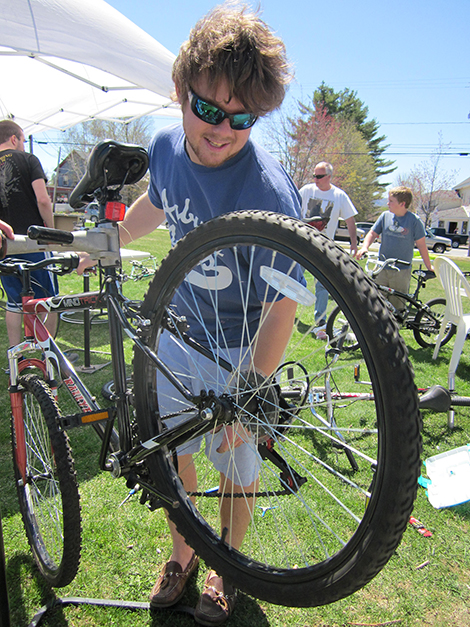 On May 4 the Kearsarge Valley Transition Initiative (KVTI) hosted a highly successful Community Bike Tune-Up and Swap on the New London Town Green. This event was made possible through partnerships and support from Colby-Sawyer College, the New London Police Department, Pizza Chef, Hole in the Fence Cafe, Arctic Dreams, and Village Sports.
On a sunny Saturday afternoon KVTI members distributed coupons contributed by Arctic Dreams, Hole in the Fence Cafe, and Pizza Chef to the 20 community members who donated bikes. Those members also facilitated 12 swaps for people who brought in smaller bikes and "traded-up" for a larger size, and eight other people went home with a "new" bike.
In addition, three volunteer mechanics were on hand to offer free tune-ups and advice. Professor Harvey Pine from Colby-Sawyer College and students Geordie Sousa '13 and Doug Foley '15 worked on approximately 35 bicycles throughout the day. Two New London Police Department officers, Patrolman Eben Lamson and Detective Tom Anderson, distributed free helmets, and John Kiernan from Village Sports sized the helmets and was on-hand to provide
additional technical assistance and equipment as needed. Live music was provided by Ben Dobrowski, co-owner of Greenhill Collective Farm in Sutton, N.H.
Bikes that were not claimed by the end of the day were donated to local children and to Colby-Sawyer's "Chargers Stable" free bike-share program for students. Many attendees requested that the Kearsarge Valley Transition Initiative consider making the Community Bike Tune-Up and Swap into an annual event and, based on the positive response they received that day, KVTI members hope to do just that.
The Kearsarge Valley Transition Initiative encourages the nine towns in the Kearsarge Valley to develop a greater reliance on local resources – food, energy and human resources in particular – to address the impacts of global issues such as economic insecurity, environmental instabilities, and dependence on non-renewable energy. Its members include Colby-Sawyer College students, faculty and staff, as well as residents from surrounding communities.
For more information visit KearsargeTransition.wordpress.com