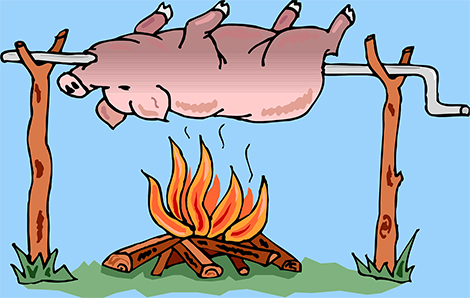 Everyone loves an auction! Combine that with a pig roast, and you've got a winning ticket.
The Danbury Community Center will be holding its 2nd Annual Pig Roast & Community Auction on Saturday, June 1 at the center at 15 High St in Danbury, New Hampshire.
The event will start at 3 PM with some children's games outside, followed by dinner at 5 PM. The star attraction – the Community Auction – starts at 6 PM (no dinner purchase necessary to attend auction or play the games). The dinner will feature a locally raised and roasted pig, potato salad, coleslaw, baked beans, roll, beverage, and dessert.
An adult meal ticket is $15; ages 12 & under are $7. There is also the option for a kids hot dog meal for $3. The auction will feature a variety of items and gift cards donated from area businesses. Last year's event was attended by almost 100 people, and with your help we hope to make that number even higher this year.
We hope to see you there!