Paul R. Moore, 82, died peacefully at home in New London on June 23, 2013 in the presence of loved ones. Paul was born July 12, 1930 in Newburyport, Massachusetts, the son of the late Paul Raymond and Esther May (Fellows) Moore. He grew up in Hampton, New Hampshire, graduating from Hampton Academy and High School in 1948.
Paul served in the United States Coast Guard from 1951 to 1954. He attended the University of New Hampshire in Durham, receiving his bachelor of science in 1958.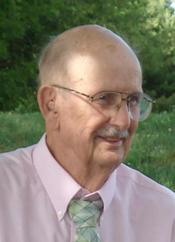 Paul was the director of the food service for Juniata College in Huntingdon, Pennsylvania for four years before moving to Hanover, New Hampshire, to assume the same position at Dartmouth College, where he was employed for 24 years. Paul then worked at St. Paul's School in Concord as Director of Food Service until he retired in 1992.
He was a member, and also served as President, of the National Association of College and University Food Services and received the NACUFS Distinguished Lifetime Member Award.
Paul was blessed to have married Priscilla Marie Marple on June 22, 1958, at Bow Lake in Strafford, New Hampshire. They were happily married for 49 years, together raising three daughters before she passed away in July of 2007.
He found great joy in his daughters and grandchildren, who were an immense source of pride and love. He spent many hours traveling to and watching his grandchildren play sports or perform in music and theater productions.
Paul was blessed a second time when he married Geraldine Hutson on July 18, 2010, at the Andover Congregational Church. Gerry brought with her an extensive, loving family among whom he found a great deal of happiness. Gerry and Paul enjoyed time together traveling in their RV with their Australian Shepherds to Maine and down the East Coast to Florida and back.
Paul's interests were many and diverse. He was an avid sports fan and had an amazing ability to recall baseball statistics. He enjoyed golf, travel, and entertaining, often hosting students at his family table and becoming a second "Papa" to them. He also belonged to King Solomon's Lodge # 14 F&AM, Bektash Temple Shrine, and was on the Maple Sugar Shrine Bowl Board of Governors.
Paul is survived by his wife, Geraldine: three daughters and sons-in-law: Cheryl Hack and her husband Tom of Steamboat Springs, Colorado, Wendy Langelier and her husband David of Nashua, and Sharon Gallager and her husband Ken of Concord; and five grandchildren: William Hack, Sean Langelier, Megan Langelier, Eric Gallager, and Ian Gallager. He is also survived by his sister Sandra (Moore) Baker of Fort Myers, Florida, several nephews, and a niece.
Paul will be missed by those who knew and loved him. In lieu of flowers, memorial donations may be made to the Lake Sunapee Region VNA and Hospice, PO Box 2209, 107 Newport Road, New London 03257, UNH, or the Shrine Hospital. Condolences may be left on the online guest book at ChadwickFuneralService.com.
There will be no visiting hours. A memorial service will be held at 10 AM on Saturday, July 27, at the Andover Congregational Church, Route 11, East Andover.