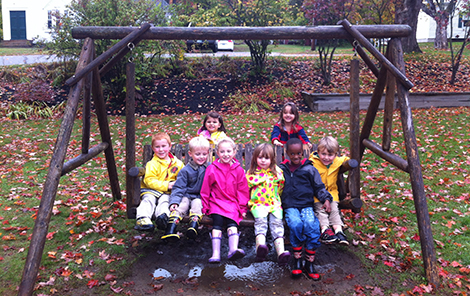 After a truly spooktacular Halloween Family Fun night, we begin yet another exciting month here at Imagination Inn. Thank you to all our friends and family here in town and on campus who welcomed our ghosts and goblins during our second annual Trick or Treat.
This "haunting walk" has become a great opportunity for our children to explore the area around them and embrace the community, which always is eager to welcome them. It's a wonderful tradition that we hope will continue in the years and years ahead.
We will be welcoming our Grandparents for our Thanksgiving Pie Social. The classrooms will be serving homemade pies topped with whipped cream and sprinkled with a bit of love. Our families will have a chance to view the classrooms, and the children will have a chance to show off their friends, their artwork, and some will even share their singing voices. November is a month that we celebrate all that we are thankful for and welcome the chance to remind our grandparents how special and important they are to us all.
The children will be testing their walking legs and "relaying" their way through the area for our first fun Turkey Trot. Children will be making feathered headbands and gobble, gobble, gobble their way around the campus, throughout the community, and around town in search of feathers to add to our huge Thanksgiving turkey.
We are looking forward to spreading our wings and exploring the great outdoors during this beautiful time of year. We are already trying to predict how many feathers we will collect. With any luck at all, Mother Nature will wait, and our turkeys will not need to trot through the snow.
In a blink of an eye, November will be gone and we will be sitting reminiscing about the yummy turkey we enjoyed, the fresh pies, and the delicious cranberry sauce. It won't be long before the stockings are hung, the trees are decorated, and the gift wrapping begins.
Here at Imagination Inn the crisp fall air means jumping in the leaves, warm coats, and busy little squirrels running around gathering nuts. And, though without a doubt we all enjoy gingerbread houses, decking the halls, and wish list making, today, just like every day here at Imagination Inn, we are going to take the time to enjoy the moment that happens now.
For us, it's fairly simple. We are thankful for what happens today. Because today, a child laughed, a baby learned to crawl, and a toddler made a new friend. Today, we played with spaghetti in the water table, we painted our feet, and today, we danced to music.
We all have so much to be thankful for, and as we enjoy Thanksgiving here at the Inn, take a moment to do something simple. Take a moment to enjoy today.