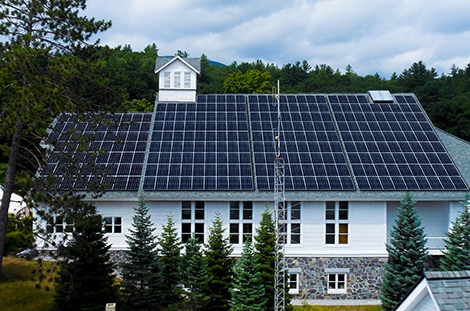 Proctor Academy will install the largest rooftop solar panel array in northern New England in November, when the entire south roof of the Wilkins Meeting House will be covered with photovoltaic cells. The array will be comprised of 273 Suniva Solar modules, each capable of generating 260 watts. The modules will cover 5,000 square feet of roof space. The system will generate approximately 90,500 kilowatt hours of energy, offsetting approximately 116,745 pounds of carbon dioxide annually.
While we measure electrical output by contrasting to coal (22,000 pounds annually), Proctor already receives its electrical power by contract from a wind farm in Texas. Environmental Director Alan McIntyre observes, "This is just one step of many in our quest for sustainability."
The school committed to reaching a net zero carbon footprint with the adoption of an aggressive Environmental Mission Statement in 2008. This solar project is the outcome of work by many Proctor constituencies, including a team of students who conducted an audit of roof space potential for solar panels during last spring's Project Period.