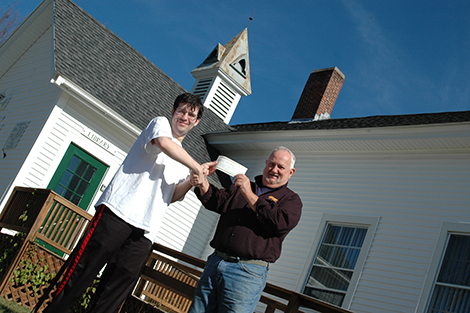 Jerry Smith (above, right) was one of nearly a dozen entrants in last month's Look Up, Andover! challenge. Jerry's name was the one drawn out of a hat, so he's pictured here receiving his $25 Pizza Chef gift certificate from Beacon volunteer Robert Ofenloch. Photo: Charlie Darling
Of special note were the entries from Cam Perkins (grade 2) and his sister Jazlyn (grade 4). In honor of being the youngest entrants (by a lot!), they each received a Naughty Nellie's Ice Cream Bar gift certificate. Way to look up, kids!
And now, the correct answers to last month's Look Up, Andover! challenge:
1. Highland Lake Grange Hall
2. Proctor Academy's Shirley Hall
3. Proctor's Health Center, the former Second Congregational Church
4. Andover Town Hall, the former Andover Primary School
5. Lake Sunapee Bank
6. East Andover Village Preschool, the former East Andover School
7. Andover Congregational Church
8. Proctor Academy's Wilkins Meeting House
9. Proctor Academy's Maxwell Savage Hall
10. Andover Elementary/Middle School, the former Andover High School
Thanks again to Larry Chase for the idea and the Look Up photos.