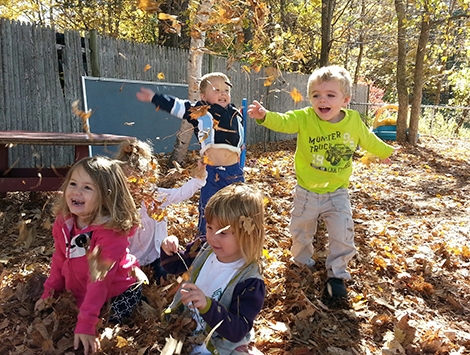 October was a spook-tacular month filled with spiders, slimy science creations, and a few ghosts and goblins. This year's Halloween Family Night was a great success. Our little princesses, pirates, Power Rangers, skeletons, and fairies wandered our haunted halls.
The spooky walk led them throughout all our classrooms where they "bowled" the ghostly pins, reached through the pumpkin slime, "flicked" the frogs, and enjoyed many delicious Halloween treats. The walk ended with a special treat and a story book to add to their home book shelf. It's always fun to see the smiles on our little monsters and watch them explore the school with their families.
We wrapped up the month with our trick or treat throughout the town. A huge, huge, huge "Thank you!" to all our Proctor friends and the many, many local businesses who hosted our little monsters during our Halloween March. It is such a thrill for the children to walk the area and share their holiday excitement. Thank you for always making us feel so special.
As November approaches and the leaves begin to fall off the trees, we are reminded of all we are thankful for. During the month we will be collecting canned goods and non-perishable items for Andover's Food Pantry. Each classroom will decorate a box to hold all our goodies. We expect, as in years past, the box will "runneth over" and we can add to the empty shelves at the Andover Food Pantry.
Once again we will be off on our Turkey Trot, searching high and low for feathers to add to our "not so fluffy" turkey. Last year we found feathers at Lake Sunapee Bank, New Horizon's Hairstylist, Pizza Chef, and even the Town Hall and Andover Public Library. With the cooler weather just around the corner, I think our turkey will greatly appreciate the extra feathers.
We will end the month with a visit from our grandparents for our Thanksgiving Pie Social. Hot coffee and tea will be steaming, hot cocoa will be warmed, and the delicious scent of homemade goodies will warm our classrooms. Children will share a few of their favorite songs, and we have the pleasure of meeting and hosting our wonderful grandparents. It's a great way to start the holiday season.
Finally, we are excited to announce the arrival of our latest new classroom friend, who arrived in a box to the Inn this month. Our camel friend (who, as of press time, has yet to be named) traveled to the Inn from Afghanistan. One of our families' dad is serving in Afghanistan, and he sent along a camel which he "found in the desert searching for a new home." He thought the children at the Inn could take extra special care of him and take him along on our many adventures.
The box included a note, a pet monkey (for the camel, of course!) and a neatly, carefully cared-for American flag for each child here at the Inn. We are writing, taking pictures, and documenting all our adventures so we can send them back to Afghanistan. Along with Aidan and Liam Duchesne, we are proud and excited to share our adventures with their dad Brian.
Here's to another wonderful month at the Inn!