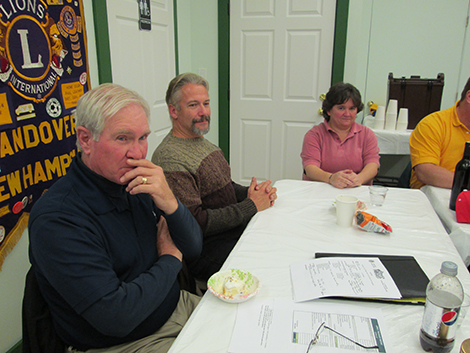 The Andover Lions, in conjunction with students from Proctor Academy, had a great time hosting a Halloween Open House at the Lion's Den on Poplar Street in downtown Andover. We gave out candy, painted faces, played games, and drank cider. We are looking forward to doing an even bigger and better event next year.
We were able to screen 32 children at the Danbury School for potential hearing and sight issues. We hope to do Andover Elementary/Middle School next spring.
We are continuing to sell calendar raffle tickets. Please see one of our members to purchase a ticket. They are only $10 each, and winners will be selected during the month of January.
We have changed the location of our Monday meetings. We are now meeting at the community room at Naughty Nellie's. The proprietor, Julia Rector, served a delicious meal of homemade chicken noodle soup and a beef stew, with a wonderful pasta salad and various sandwiches. Of course we had their scrumptious ice cream for dessert.
Naughty Nellie's is ready to host private parties, get-togethers, or meetings in their new room. It is a wonderful addition to Andover and will soon be accompanied by a cafe and bakery. We can hardly wait!
Our speaker for the meeting was Bill Kennedy, the new owner of the Inn at Danbury, who spoke on his distinguished career in the Air Force.
The Lions were fortunate to receive many generous donations towards the new Christmas tree in town, and we thank again all who donated. It was planted just in time for our lighting ceremony, which will be held on Saturday, December 1, at 6 PM.
On Wednesday and Thursday, December 26 and 27, we will be hosting a middle school basketball tournament. There will be girls and boys teams from Franklin, Andover, Kearsarge, and Pittsfield. We will be holding it at the Proctor Academy field house.
Annual Christmas Party
Our Annual Christmas party will be catered at the Ragged Mountain Fish and Game dining hall. Although we have thoroughly enjoyed our marvelous feasts at Proctor Academy, our numbers have dwindled to the point that we no longer need such a roomy facility.
As always, we welcome new members. If interested, please give our membership chair, Lion Howard George, a call at 735-5590.
Happy Holidays from the Andover Lions Club!