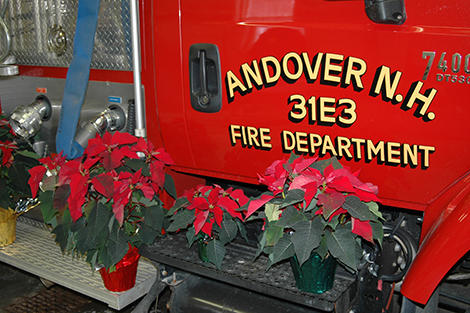 This is the last article I will write as the East Andover Fire Chief. As of January 1, we will be one department in Andover, and my current position will retire. I must admit that after thirty years as chief in East Andover, I am a bit melancholy. Serving with the firemen for the people of East Andover has been one of my proudest accomplishments. For that opportunity I thank the East Andover firemen and the people we protect. The trust you have placed in me is humbling. Thank you.
Now we are ready to move forward. I have accepted the position of Fire Chief in the combined Andover fire department and very much look forward to the challenges we will face working with an absolutely super team of firemen.
We experienced an unusual event during the super storm in late October. That event in our community was a brownout. Many may remember that the lights in their homes were not as bright as normal and that some appliances may have even vibrated. This condition is caused by low voltage from the power utility.
In the case of the super storm, the high winds caused trees to fall on power lines and likely destroyed a phase fuse on a major feed line. Grounding feed lines by fallen trees may also contribute to a brownout condition. This is not a fault of the utility but a condition caused by extreme weather conditions.
It is important when you are in a brownout that you take precautions to protect your appliances. Devices like toasters, incandescent lights, and your electric stove are restive loads and will not be harmed by low voltage. Devices that have a motor like a dishwasher, furnace, refrigerator, or freezer may be harmed by the low voltage of a brown out.
The best way to protect your appliances is to turn them off until you notice that your lights are at full brilliance for more than fifteen minutes. A fluorescent light is a good indicator as it will react very poorly to low voltage. When the fluorescent light is on steady at good illumination, your power is okay. Many modern electronic devices protect themselves from low voltage to a point. My best advice is to turn them off and wait for the utility to correct the problem.
We were called out to several emergencies during the super storm and the incredible thunderstorm the next day. We were unable to use the door openers at the fire station, and the fluorescent lights acted downright weird when we arrived. We shut off our main breaker, which triggers the standby generator. The brownout provided enough power to keep the generator from working but did not allow our doors to work.
Compared to our friends in New York and New Jersey we were only brushed by the storm. Our brownout was a bit inconvenient. What could have happened may keep you up nights. However, worrying is a waste of good energy. Better to prepare and be self-sufficient during a storm. There are many good places to consult for what you need during a storm. I recommend Ready.Gov as a good place to start. You may call us any time to help answer questions. We are at our fire station every Monday evening.
From all of us, your life safety team, have a safe and happy Christmas season.