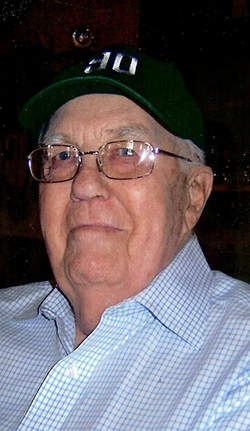 Donald M. Johnson, 92, of Poplar Street, died peacefully on Friday, February 28, 2014 at Elm Wood Center in Claremont. He was born in Framingham, Massachusetts on January 18, 1922, the son of Charles L. and Elizabeth (Bailey) Johnson. He lived in Tarpon Springs, Florida for 20 years before moving to Andover in 2009. The family also had a home on Kezar Lake in Lovell, Maine for over 50 years.
Mr. Johnson worked as a mechanical engineer and designer for Lever Brothers and Polaroid. He served in the US Army Air Corps during World War II. He loved music and photography and was involved in the Framingham, Massachusetts heart study as a second generation participant.
He is predeceased by a son, David M. Johnson and a brother, Robert Johnson. Members of his family surviving include his wife of 68 years, Nancy Bacon Johnson of Andover; five children, Donna J. Seabolt and her husband Robin of Newbury, Paula J. Monk and her husband Gary of Newburyport, Massachusetts, Craig A. Johnson and his wife Donna of New Orleans, Marcus B. Johnson and his partner Lois Magenau of Andover, and Richard C. Johnson of Boulder, Colorado; six grandchildren, Lisa Pearce, Alex Seabolt, Hanna and Brice Johnson, Andrew and Matthew Johnson; and five great-grandchildren, Liam, Cooper, and Chapman Pearce and Lilly Seabolt.
A memorial service will be held in the spring, and burial will be in Blossom Hill Cemetery, Concord. Memorial contributions may be made to the Alzheimer's Association or the New Hampshire or Vermont Veterans Hospitals. To sign an online guestbook, please visit ChadwickFuneralService.com.