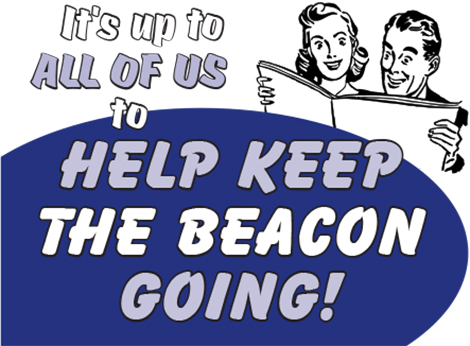 The Andover Beacon's annual canvassing campaign starts in October!
Last year's level of community support for the Beacon – less than 320 households out of Andover's 1,100 households – is simply not enough to make the Beacon a sustainable community project over the long haul.
Advertising currently accounts for about 75% of the Beacon's annual revenue; the other 25% comes from donations from the community and subscriptions from out-of-towners. After 11 years of struggling to sell more ads every month in order to balance the books, it's become very clear that a small community newspaper like the Beacon simply can't expect to drive ad sales much higher than they already are.
Less than 30% of Andover households donated to the Beacon last year, yet 100% of Andover households receive the printed Beacon at no charge every month, and 100% of Andover households can access AndoverBeacon.com at no charge anywhere and anytime they can get to a Web connection.
Given that advertising revenues have proved stubbornly resistant to increasing, the only choice left is to increase donations. Increasing donations can put the Beacon on a firm financial footing for the forseeable future.
Round Tuit … and more!
The "Get a Round Tuit" fundraising campaign will continue as always in the Beacon, with an annual donation envelope included in the February issue every year. For people who make their annual donation to the Beacon based on the envelope, that's the end of the story – no one will contact them in October.
But "Get a Round Tuit" only brings in donations from about 150 households each year – less than half of what we need to keep the Beacon going strong!
To close the gap, volunteer canvassers select some of their Andover friends and neighbors who haven't donated yet this year and in October contact them (by phone, by e-mail, or in person) to remind them that the Beacon needs their financial support every year. The slogan for the October canvassing campaign: "It's Up to All of Us to Help Keep the Beacon Going!"
Canvassers: Your materials are here.
So if you've already donated to the Beacon this year, thank you! You've done your part to help keep the Beacon going, and our canvassers won't be contacting you in October.
If you haven't donated to the Beacon yet this year, please do so today! If you wait until October, then one of your friends or neighbors will have to ask you to do your part to help keep the Beacon going. But either way, your help is very important.
Donation Levels
When you donate to the Beacon, your money works hard to help keep The Andover Beacon going. Here are some examples of exactly how your donation could make a difference:
| | |
| --- | --- |
| A donation of … | … pays for these vital steps in keeping the Beacon going. |
| $30 | Hosting AndoverBeacon.com for two months |
| $40 | Internet access for the Beacon office for one month |
| $50 | Printing and mailing bills to advertisers for one month |
| $75 | Phone and Internet access for the Beacon office for one month |
| $100 | Rent for the Beacon office for half a month |
| $250 | Printing the Round Tuit envelope each year |
| $500 | Postage to mail one monthly issue of the Beacon |
| $1,000 | Insurance premiums for the Beacon for one year |
| $1,500 | Printing and mailing one monthly issue of the Beacon |
No matter what level of donation makes sense for you, every dollar is greatly appreciated! To contribute, please make your check payable to The Andover Beacon and send it to:
The Andover Beacon
PO Box 149
Andover NH 03216
Get A Round Tuit by Mail …                                 … or by Paypal
---
Community Publishing of Andover, Inc., the company that publishes the Beacon, is a New Hampshire charitable non-profit and is registered with the Charitable Trusts Division of the New Hampshire Department of Justice (reg. no. 15613). It has also been granted 501(c)(3) public charity status by the IRS, and therefore voluntary donations to the Beacon are tax deductible to the extent allowed by law.