The Andover Beacon is a monthly non-profit community newspaper that is delivered at no charge to every mailing address in Andover.
To make it easy for our readers (and their friends and neighbors who might be interested in moving to Andover) to keep up with what's for sale in Andover, we've launched "Real Estate For Sale in Andover," a half-page (10″ x 8″) special advertising section that features 12 paid ads for properties for sale in Andover.
The goal is to give real estate agents an inexpensive way to draw attention to their Andover listings and to give readers a single, highly-visible go-to spot in the newspaper to see those listings.
Each ad costs $25, and they are sold strictly online (here) on a first-come, first-served basis. The whole transaction should take only five minutes.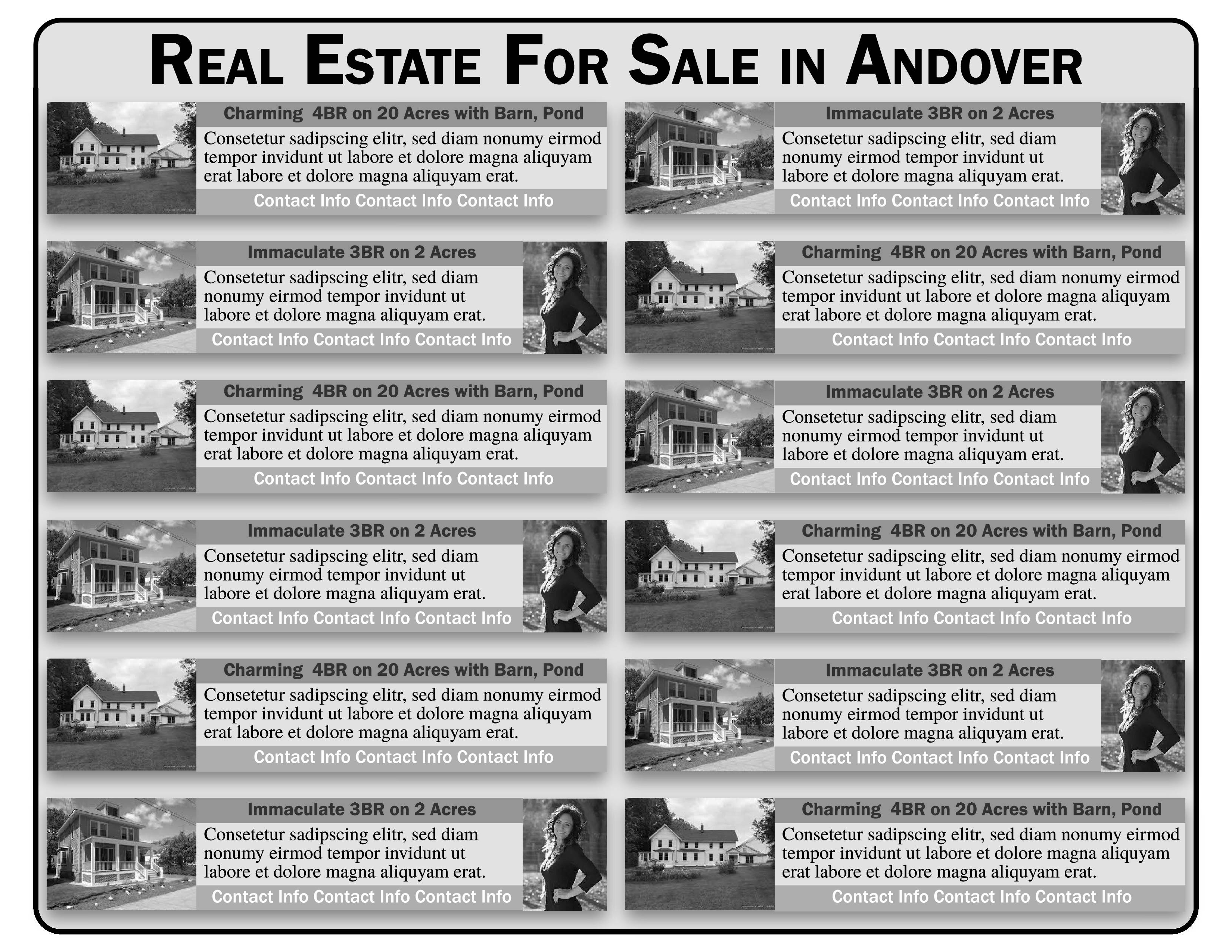 Each ad follows the same format:
Photo of the property (landscape format — wider than tall)
An optional photo of the agent (portrait format — taller than wide)
A title for the ad (50 keystrokes max)
A description of the property (200 keystrokes max … but only 150 keystrokes if you supply a photo of the agent)
An optional banner across part of the property photo:

New Listing!
Reduced!
Under Contract!
Sold!

Agent's contact information (50 keystrokes max)
To keep everything quick and easy for you and for us, you can provide us all that information, upload the photo(s), and pay for your ad in just a few minutes on this page. PayPal is our payment processor, which means you pay on their secure servers using any credit card or your PayPal account. (You don't have to have a PayPal account!)
The deadline for "Real Estate For Sale in Andover" is the 22nd of every month. After that (or once we sell 12 ads for the upcoming issue), the sign-up form won't be available … but you can always contact us at Ads@nullAndoverBeacon.com to arrange for a normal display ad.