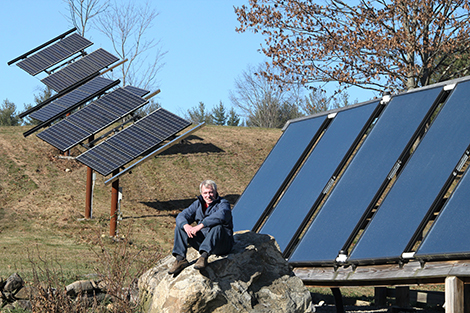 About 50 local residents and students from Colby-Sawyer College showed up for Andover's first Energy Awareness Day on Saturday, November 3. Hosted by the Andover Energy Group, attendees were able to visit with four homeowners who had installed solar photovoltaic and solar hot-water systems, and a local resident who has built a straw-bale home. Proctor Academy also offered tours of its biomass central heating system and a dormitory heated and cooled by geothermal energy. A local bed and breakfast showed off its high-efficiency propane heating system.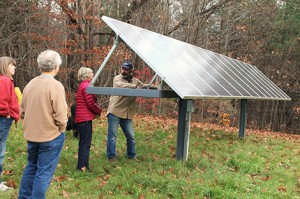 Also available for tire-kicking was a collection of fuel-efficient vehicles: three brand-new hybrids supplied by the Grappone Automotive Group, a do-it-yourself all-electric 1972 Volkswagen Beetle, and several gas-sipping daily drivers.
RP Johnson & Son also contributed to the day by setting up a special display of weatherization products and tools. And the Town Hall meeting room was filled with literature supplied by the New Hampshire Electric Cooperative, books on energy-related issues supplied by the Andover Public Library, a computerized slide show depicting the installation of a local geothermal heating and cooling system, and cider and doughnuts supplied by the Andover Energy Group.
Below are summaries of information handed out to visitors to the four Andover solar-powered homes participating in the event. For copies of the full information handouts, send an e-mail to LBChase@nullaol.com specifying which installations you're interested in.
Mary Ann Broshek's solar hot water heating system
76 Shaw Hill Road
Installed fall 2012
System overview prepared by system designer/installer ReVision Energy (RevisionEnergy.com), Portland Maine: ReVision Energy proposed a closed-loop antifreeze solar hot water system, utilizing two solar hot water collectors, a 105-gallon storage tank, and a pre-engineered solar pump station. The system is designed for primary solar domestic water heating with backup coming from the existing oil boiler.
On a good sunny day, the solar system will produce a 60- to 70-degree temperature rise in the solar tank and will be sufficient to provide most domestic hot water needs in the spring, summer, and fall. In the winter, when less solar energy is available, the oil boiler will supplement as necessary to ensure a consistent supply of comfortable hot water. The solar hot-water system will produce more than 19 million BTUs of clean, renewable heat energy annually and, by reducing the amount of fossil fuel burned, it will eliminate over 4,500 pounds of carbon emissions annually.
System operation: Whenever the rooftop collectors are warmer than the water in the bottom of the storage tank, a differential temperature sensor automatically activates the solar circulating pump affixed to the solar tank. Sun-heated antifreeze is pumped down from the collectors and through a heat exchange coil located in the bottom of the storage tank. The heat from the sun is transferred to the water in the tank and, in the spring, summer, and fall, will meet most of the household's domestic hot-water needs.
Cost: $11,416 for complete system and installation, minus $1,500 rebate from the Public Utilities Commission and $1,500 from New Hampshire Electric Coop comes to $8,416. Subtract a 30% tax credit of $2,524 and the net cost is $5,892. Estimated payback time frame: six years.
Steve and Gisela Darling's solar hot-water heating system
206 Bridge Road
Installed November-December 2010
What: Solar hot-water heating system integrated with domestic hot water and radiant floor heating
Why: Accomplish a 30-year ambition to become more energy independent. Help assure that there will be some fossil fuel available for our daughter and her children.
Reduce the amount of carbon sent into the atmosphere to slow the rate of climate change. Save more than $800 per year.
How much: $6,034 after 30% federal rebate. Steve installed the system himself.
The system has two separate active loops, with one transferring hot water warmed by sun in the solar collectors to two hot-water storage tanks in the cellar of the house. The other loop takes hot water from the two tanks and moves it to the domestic hot-water system in the house and to the hot-water heating loops in the floors of all rooms. These two systems are integrated but are controlled by thermostats and distributor pumps.
In the summer, there is no water pumped through the floor heating loop, but the domestic hot water is used. In the winter, both systems require heat; therefore, hot water is pumped through the radiant floor heating tubes as well as the domestic hot water system. Electronic controllers give the status of the collector, storage tanks, and distribution system water temperatures.
The five solar hot water collectors are mounted on a home-built rack in the back yard instead of on the roof to allow for better servicing and ease of installation. Heated water travels from the collector racks to the basement storage tanks via a four foot deep trench. The collectors are of the flat-plate type and have been in use for more than 25 years; therefore system life expectancy is 25-30 years.
System Designer: Radiantec Corp., Lyndonville, Vermont.
Bart and Liz Green's solar photovoltaic and hot water heating systems
140 Maple Street
Installed May-July 2009
The photovoltaic system is a Sanyo 18-panel system which produces 18 kilowatts (kw) a day without tracking. Tracking the sun increases the 18 kw capacity to over 30 kw on a good day. Some solar electricity is produced every day, regardless of cloud cover.
The panels track the sun with no moving parts aside from the panels themselves. The sun heats the lower part of the panels converting a liquid there to a gas which travels to the upper part of the panels where it cools. This cooled liquid then is heavier and turns the panel by its weight alone. During the day, this heating and cooling is constant and adjusts the panels to face the sun at all times.
Before installation, the house averaged about 22 to 25 kw use daily. After replacing many lightbulbs with CFL and LED bulbs and putting timers on all TVs, satellite boxes, and computers, the house usage was cut in half, thereby eliminating another set or two of tracking panels.
Solar hot water heating system: This system consists of eight heating panels, a 725 gallon heat storage tank containing water, a closed loop filled with glycol/water connecting the panels to the storage tank, a controller to sense temperature of the panels and the storage tank, and a bypass heat disperser to avoid overheat.
Installation: Both photovoltaic and heating panels were installed in spring and summer of 2009. The cost was $85,500. After that, there was a 30% Federal tax credit, a New Hampshire state rebate of $6,000 and a NHEC rebate of $3,500, which brought the real cost down to $50,000. The savings from reduced fuel and electrical costs result in a system payoff in 8 to 10 years at the then-present rates, which have risen.
System installer: Al Ducharme, Snow Dragon Renewable Energy (Snowdragon-RE.com), Meredith
Ken and Lee Wells' renewable energy home
92 Maple Street
Installed December 2009
What: A 2 kw solar electric photovoltaic array, ground mounted, and a solar domestic hot water (SDHW) system, rooftop mounted.
Why: We want to reduce the amount of carbon dioxide pollution our family produces; coal, gas, and oil should stay in the ground, not end up in the atmosphere! We want to live comfortably and sustainably, benefiting our local economy and without fossil fuels. Our modest-size photovoltaic array provides 105% of the electricity we use. By boosting local line voltage and preventing brown-outs, local photovoltaic arrays improve the efficiency of all our Andover neighbors! You're welcome! Installing SDHW and photovoltaic systems allowed us to pre-pay most of our home energy costs up-front, before retirement. The SDHW cuts our heating oil use in half. We use less than 400 gallons per year since it was installed.
How much: The photovoltaic array cost about $7,000 after rebates, with an estimated nine-year payback. The SDHW cost about $3,000 after rebates, with an estimated nine-year payback. We further reduce our electric consumption by avoiding air conditioning, TV, and "phantom loads" and by using compact fluorescent lights.
System descriptions: Our 2 kw solar collector for electricity is mounted on a rack in the back yard. On sunny days, excess power goes back out to the street and turns our meter backwards. At night, the meter runs the usual direction. Our system is not designed to operate during a power outage.
The solar hot-water system consists of a highly efficient "evacuated tube" collector with 24 tubes. Hot glycol circulates via insulated tubes to a heat exchanger in the basement. Solar energy raises the well water temperature in a pre-heat tank by 40º in midwinter to 100º in midsummer.
System Designer and installer: Jim Gamble of GES Solar Store, Concord.