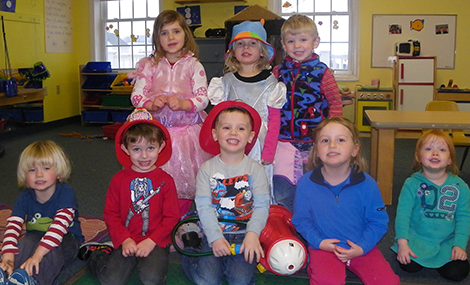 December was a busy month filled with holiday cheer and prancing feet. We celebrated the season with a Winter Wonderland Family fun night. Parents, staff, and children arrived in their pajamas and followed the snowflakes throughout the school to a hot cocoa marshmallow toss game, a cookie and cocoa station complete with trays and trays of homemade cookies (thanks to our wonderful parents!), and to a candy cane station where children "fished" for holiday ornaments. We made reindeer food, antler cookies and mailed letters to the North Pole.
Of course, the night could not have been complete without a visit from good old Saint Nick. A huge thank-you to our wonderful Santa, a.k.a. Bill Bates. It was a perfect way to end 2012 – surrounded by family, friends, and giggling little ones.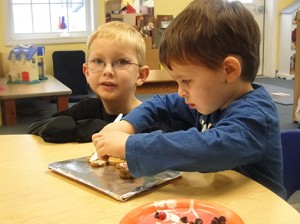 Throughout December we collected items to deliver to the Andovers Food Pantry. The children were so excited to watch our boxes quickly overflow.
We were hoping to deliver our boxes before the holiday, but on our last day of collection, the weather wasn't very cooperative. We anxiously watched out our windows, hoping the rain would stop, but it seemed to only get heavier as the day went on.
Thankfully, we had a few elves ready to help. A big thank you to Kristi Perreault and Marissa Laro for getting our boxes safely to the Andover Food Pantry. You both muddled through the downpours without hesitation. Thank you!
January
January arrived, and Mother Nature had us wondering where winter was. There have been only a few days when Jack Frost was nipping at our noses, but for some reason, we find ourselves wishing for winter white, fluffy snowflakes, and the sticky snowman-making kinda snow.
We welcomed new friends to our Bouncy Bear classroom, celebrated many first birthdays, and continue to marvel and watch our smallest children reach and conquer so many firsts, so many milestones.
Our Marvelous Monkeys are chatting away, toilet training, and growing by leaps and bounds. They continue to discover so many new things every day. Whether we are painting, squishing play dough, playing in the indoor sandbox, or dancing to music, each day is filled with a new experience, a new adventure, another new moment of exploring. Two can only be described as terrific!
Our Terrific Tigers are exploring winter. They are making polar bears, reading about winter animals, and roaring around the classroom. The children are discovering what happens when snow melts, how ice cubes are formed, and how fun they can be when you add color and splash in the melted results.
The Tigers are becoming quite independent, learning how to put on their winter outdoor clothing, opening their own juice boxes, and proudly smiling at each accomplishment.
Preschool Pandas welcomed Wanda the Weather Woman. This wonderful puppet helps predict the daily weather and helps us choose a morning weather wizard. Wanda has been busy getting to know the children and learning how to be a Panda.
Pandas are enjoying their weekly Book Bag Buddies, Show and Share, and lots of hands-on sensory time. We brought a bit of snow into the classroom, made pancakes to celebrate the letter P, and laced our painted noodle necklaces during our letter N week.
During January, we welcomed our new student teacher, Ms. Jocelyn, to our classroom. We are excited to show Jocelyn our classroom and looking forward to learning and exploring with her.
As if January wasn't exciting enough, we are thrilled to once again spend our Fridays visiting and ice skating at the Proctor Skating Rink. Every Friday our Tigers, Pandas, and After Kindergarten Adventures bring their skates and dancing feet for a fun-filled hour on the ice.
Thank you to the many parent volunteers, our friends at Proctor, and the many students who have come to help us every Friday. We are having so much fun and look forward to the weeks and weeks of skating ahead of us.
February will find us seeking our Valentine and watching for that loveable Groundhog. Will he see his shadow? Will we have six more weeks of winter? Guess we can only wait and see ….