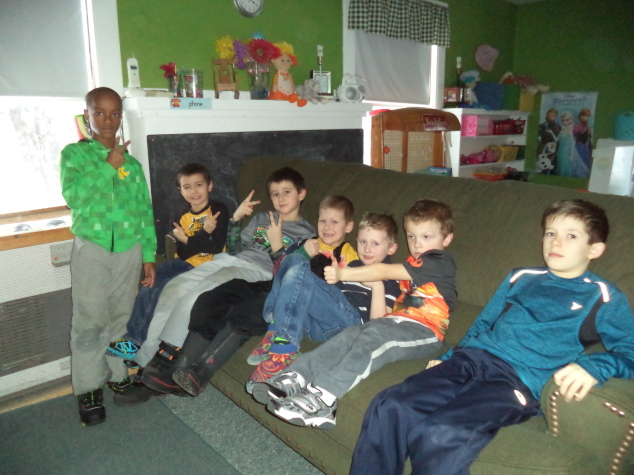 Happy Valentine's Day! We started the New Year off with many new and exciting toys and games paid for by our annual fundraiser. The children enjoyed opening new items before we left for December break. Students always look forward to coming back, so they can open and play with all the new toys. Some of the favorites include Star Wars, LEGOs, Barbies, beautiful new books, and a dinosaur race track.
We also made a trip to the Andover Food Pantry before Christmas break with a box of food. Some of our older kids took a walk over with Mrs. Jacobs to deliver the box.
In January, we have enjoyed making paper snowmen, snowflakes, and felt projects during free time. The staff also read a Martin Luther King Jr. book and followed up with a project called Hands Across America. This display is on the "What's Up?" bulletin board.
Ski day was also a huge success and went smoothly. The children who decided not to ski enjoyed popcorn, hot cocoa, and a movie on Friday afternoons.
For February we made valentines, a heart plant for our display, and made some heart projects. We also had some sweets and a special snack the week before Valentine's Day.
We have a couple of part-time student openings still available. We are also always looking for substitute teachers. If you have any questions, contact us at AndoverKids@nullgmail.com or 735-6566.
If you are in the area, feel free to stop in and check out the building. We are here starting at 2:45 PM, Monday through Friday.