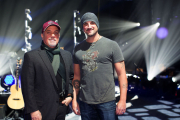 Tribute Band Leader Hired By Billy Joel
Plymouth, NH.  The Flying Monkey Performance Center presents Mike Delguidice & Big Shot on Friday, May 11.  First known as a singer in a Billy Joel cover band, Delguidice has since been hired to tour with the Piano Man.  Tickets for this concert start at $45.
It's been five years since Mike DelGuidice, the frontman for Billy Joel tribute band Big Shot, became a member of the Piano man's band. A job that started out as a stand-in for his idol at rehearsals in 2013 led to Delguidice's permanent position as acoustic guitarist and backing vocalist in Billy Joel's touring band.
The multi-instrumentalist also kept writing his own music throughout this surreal experience. "Ordinary Guy," a song from his 2011 album My Street, is now the theme song for the new CBS sitcom Kevin Can Wait, featuring fellow Long Islander Kevin James.
"It's never easy to put yourself out there as an original artist and bare your soul to the world," revealed Delguidice. "I can only be honest in my lyrics. I learned how to write like that from Billy."
Big Shot includes other current long-time members of Billy Joel's touring band; guitarist Tommy Byrnes and Chuck Burgi on drums are well known and respected for high-energy live performances.
"I had already done a lot of work with Billy's band over the years," says Delguidice.   "So playing with these musicians is quite comfortable."
There is definitely a buzz about Big Shot since it's front man landed the dream gig touring with Joel on the road. Nothing could spark that more than Billy showing up at the Paramount to sit in with Mike's band one night.
"It was a magical night," Says Delguidice.  "The crowd was insane, with an energy in the room that was unrivaled by any other cover gig I've done. There's nothing like having that most honorable endorsement. A lot of people have asked if I was going to stop playing with Big Shot. And I laugh at them and say; "There's no way in hell I'll ever stop playing Billy's music, either with him or without him!"
Tickets for Mike Delguidice & Big Shot are $45, and $55 for premium seats.   For tickets and more information on concerts and the Flying Monkey Performance Center, visit www.flyingmonkeynh.com or call 603-536-2551.