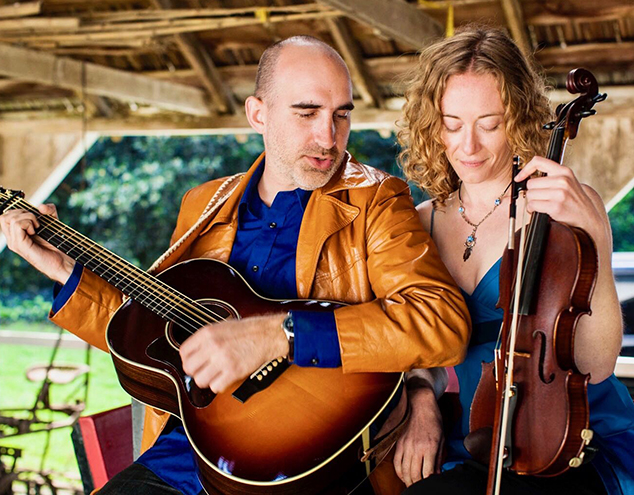 All the way from northern California, and bringing rave reviews with them, the roots-folk duo Dan Frechette and Laurel Thomsen will headline the October 19 "Third Friday" Andover Community Coffeehouse concert starting at 7 PM. in the Highland Lake Grange Hall at 7 Chase Hill Road in East Andover.  The concert is open to the public at no charge, though donations are gratefully accepted.
Described by reviewers as "prodigious players with songwriting that sets them apart," and "lyrically refreshing and musically diverse, combining judicious violin [and] phenomenal guitar playing," the duo will share the spotlight with up to a dozen open-microphone performers, whose contributions range from the spoken word to show-business, jazz, folk, bluegrass, and country-and-western tunes, often to standing ovations.  For more information, go to www.danandlaurel.ca/Home.html.
While many of the open-mic participants are repeat performers who bring their fans with them, the Coffeehouse also warmly welcomes newcomers.  Doors to the Grange Hall open at 6 PM for food purchases offered by the Andover Congregational Church, and for open-mic sign-ins on a first-come, first-served basis.  
Sponsor for the October event is The Andover Hub at 157 Main Street, the former town hall that has been repurposed as a community center. Sponsor donations defray room-rental costs  and, along with pass-the-hat audience donations, enable the Coffeehouse to offer performances at no charge.
Next to appear in the spotlight, on Friday evening, November 16,  will be singer-songwriter Toney Rocks, whose work is described as "an Americana mixture of country, blues and rock with intermittent bursts of expansive looped instrumental performances and imaginative songwriting."  His Andover appearance is part of a country-wide tour in support of his new album, Drifting, released in August. For more information, visit his website at  www.toneyrocks.com
An October sponsor is needed.  For more information, send an email to andovercommunity03216@nullgmail.com.
Information about future dates and scheduled performers, and a photographic record of the performers, both headliners and open-mic participants, are shown on the Coffeehouse website at andovercoffeehouse.org, or on the Facebook page "Andover Community Coffeehouse."
Video recordings of past programs are shown on a number of community-access channels across the state and are available for viewing anytime on Andover's town website at www.andover.nh.us/ by clicking on "Town Information" and then "Video Archive."
The coffeehouse venue, a former Grange Hall, is now the property of the Andover Congregational Church, which is located next door at the intersection of Route 11 and Chase Hill Road in East Andover.  The Andover Community Coffeehouse operates under the umbrella of the Andover Community Association (ACA).
Directions:  From Franklin, take State Route 11 West (Franklin Highway) toward Andover for about five miles. Turn left onto Chase Hill Road, immediately after the Andover Congregational Church, also on the left.  The Grange Hall is across the parking lot from the church. From Andover village, take State Route 11 East (Franklin Highway) toward Franklin for about five miles. Turn right onto Chase Hill Road just before the church.