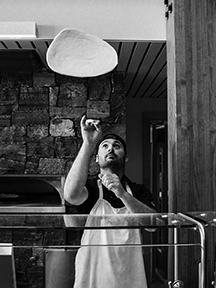 "Let's celebrate the people that make this small town great and get to know our neighbors better."  

That's the message being conveyed by local realtor and longtime Andover resident Ty Morris as he invites all Andover residents to dinner at The Andover Community Hub on Saturday, Feb. 23, between 5 and 8 p.m.   (See ad on page X in this issue of The Beacon.)

The meal is "on the house", courtesy of Morris, who is renewing old friendships and creating new ones as he begins a career as a real estate agent with Coldwell Banker Lifestyles in New London. Currently living in Sunapee with his wife Samantha and daughter Maybelle (2 ½), he's focusing his efforts on real estate transactions in Andover, where he grew up. "An essential quality of a successful local business is community service", says Morris, who pledges to put his clients and community first.

The Feb. 23 dinner will be an informal family affair, according to Morris, with guests arriving at any time during the three-hour event.  The menu boasts hearty soups and salads, fresh baked bread, roasted meats and winter vegetables, warm drinks and coffee cake. All food items will be prepared by Morris, whose other career is a chef at Proctor Academy.  

Why a community dinner?  "As I embark on a new career (while keeping at the existing one), I just want to thank all the folks who make Andover a wonderful place to live and work and create an opportunity for all to gather together. Though I now live in Sunapee, I am definitely planning to return. I would love to see my daughter at AE/MS playing for the Andover Eagles!"

To give Morris an estimate for how many to expect, please contact him at Ty@nullCBLifestylesRE.com or    603-237-2060. If weather conditions cause postponement, families making reservations will be alerted before the event.

The Andover Community Hub, whose space Morris is borrowing for the event, is located at 157 Main Street in Andover Village. Parking spaces are available in front of the building, which served as Andover's town hall and school gym from 1879 until the town's current educational facilities were completed in 1963. Overflow parking will be available in the town post-office parking lot across the street.