We saw the Ragged Mountain Mushing pick-up truck at the Transfer Station the other day, so of course we had to find out more. Andover resident Michelle Lambert was kind enough to fill us in on her fascinating hobby.
Andover Beacon: How did you get involved with mushing?
Michelle Lambert: First, I fell in love with the Siberian Husky breed. That was my grandmother's fault. She had a black and tan husky named Cochise, and I just fell in love with his personality.
When Cochise passed, we adopted/rescued Klondike and Juno from Patriot Siberian Husky League (PSHR) out of Walpole, Massachusetts. They were considered elderly dogs.
The following summer, I got a call from the President of PSHR asking if I wanted to rescue/adopt a husky puppy. My response was, "Can I get two?" So in late August we adopted two puppies that were born and fostered in Plymouth, New Hampshire.
Later, Whatleigh Torsey, who had raised the litter, came to my house to visit our new puppies. She explained that she was a musher. I knew what it meant, but never knew anyone who mushed. I was intrigued!
Whatleigh asked me to come and help her train in the fall. Before I knew it, I was a musher's "handler." I loved working with such smart, affectionate, and happy dogs.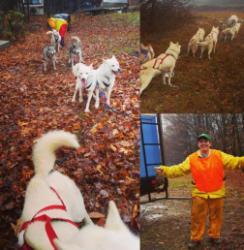 My first training day/run was on an ATV with 12 dogs. They all belonged to Whatleigh. That day I scooped buckets of poop, fed dogs, cleaned kennels, filled water buckets, and scooped more poop. I fixed something on the dog truck.
Then I learned to harness dogs. I put a few on backwards. Then it was time to bring the dogs to the line. The noise was deafening!
Once all the dogs were hooked up, away we went. The raw energy of the dogs is an overwhelming feeling of awesome.
When I got back, I was freezing. My feet were wet and cold. I was soaking wet and very muddy. But I was smiling ear to ear. I was hooked, and finished the rest of the fall and winter being a handler. And it's very hard work.
AB: What is there about mushing that makes it appealing to you?
ML: Dogs, dogs, dogs! I love that the dogs are happy. They are happy to see me. They love to run! And they are incredibly smart, also.
You develop a keen awareness of poop. There is always poop to pick up.
I love how excited the dogs get when I say, "Wanna go?" They completely go nuts.
I love the challenge. To learn such a complicated sport at 50 years old, only two things are gonna happen: You'll either take to it, or not.
Mushing is not for the faint of heart. There is a lot of adrenaline. It can be crazy fast, with five to 12 dogs pulling me along. I cannot be afraid of the speed and danger.
I like extreme sports. I also love just me being in the woods and only hearing the breath of the dogs running. There is so much solitude, and I don't think about the world. But I have to pay attention to the dogs, always!
AB: Tell us about the dogs …
ML: My home has a pack. They are called The Doggo Pack. There are six all together.
I am not what you would call a traditional/industrial musher. My pack gets to come into the house. They come and go through dog doors, at their leisure.
They are fed two types of diets during the year. They eat an organic diet of chicken, veggies, and quality kibble. In the summertime, the kibble changes to less fattening.
Yes, they are allowed on the couch, and bedtime is a little tricky. Not all the dogs can fit on the bed, so I use a rotation system. Every dog gets a turn on the bed. Except for my eldest, Juno, because he doesn't like to be up high.
Most sled dogs live in some sort of outdoor arrangement. I don't need a kennel, but I do have a 2,500 square foot yard with an eight foot high chain link fence. Did you know huskies can climb? I've seen it!
My dogs will howl if you ask them to. They love to sing you a song!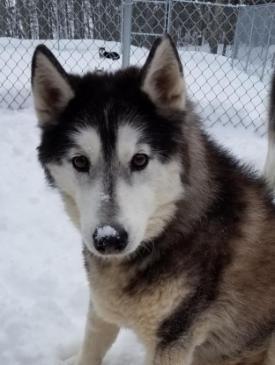 This is Juno. He is 14 years old. We have had him for four years. He runs the dinnertime routine. He is now deaf, and has some dementia. He has never been a sled dog. He has always been a house dog. He is 44 pounds and the smallest in the pack. He doesn't howl much, but enjoys herding the rest of the pack.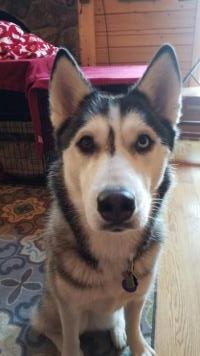 This is Yacha (pronounced Yea-cha); she is my lead dog. She is 2½ years old and weighs 55 pounds. She tells the team which direction to run in. She has to learn commands like gee (right), haw (left), on by (ignore), whoa (stop), hike (start), on trail (stay on the path), gee over (move to the right), and straight ahead. A lead dog has to be smart.
I almost couldn't run her in harness. At four months old, she was showing signs of running like a sled dog; she could pull me on my mountain bike. But at seven months she needed a bilateral femoral hip surgery due to severe dysplasia in her rear hips. The surgeon cut off the ball section on both of her hips. She was facing a life of pain meds, very low exercise, and a life left behind.
Her surgery was a success and was followed by a year of physical therapy. In January 2018, I put her in harness, and it was like she never left. Yacha is a bit of a diva and expects her dinner and cookies to be brought to her.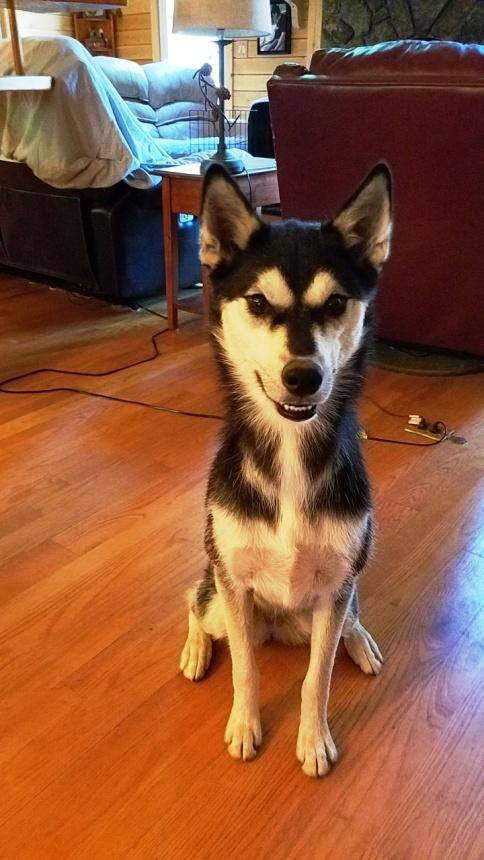 This is PaMola. She is the only dog I bought. She is also the youngest female in my pack. In April she will be two. She has really cool perfect triangles over her eyes.
She comes from a long line of sled dogs. She is a natural. She runs in swing position, which is right behind the leader.
PaMola is still learning her job on the line. She is still a bit too young to go all-out leading a team. Yacha sometimes isn't in the mood to teach her either.
I was in the room right when she was born; she slipped right into my hands. My bond is the strongest with her. If I smile, she smiles back, showing me her pretty white teeth! She is a very gentle, sweet, cuddly, expressive, and sensitive pup.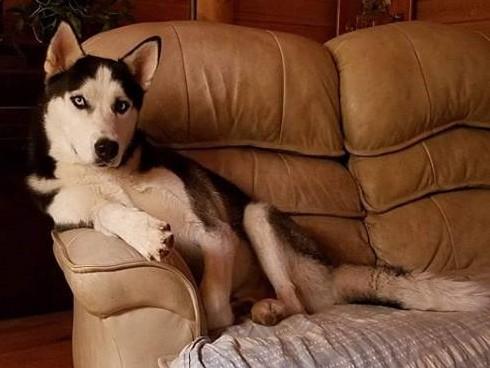 This is Ridley. His name used to be Brady, but I have way too many Brady's in my family, and then there is Tom Brady. Ridley was rescued last June. He turned two in December.
He is very tall. Sometimes I think he is part Great Dane. He weighs 75 pounds. When he barks, he almost squeaks.
Ridley was diagnosed with cataracts when he was a puppy. This does not affect his ability to run. He is a bit silly to watch run, as his legs seem to go in every direction.
Ridley is new to mushing. He likes it better than his brother Vader. He runs in swing position next to PaMola.
He also like his biscuits to be served crushed, not whole! He loves to lie across my entire body and cuddle. He loves attention and eating!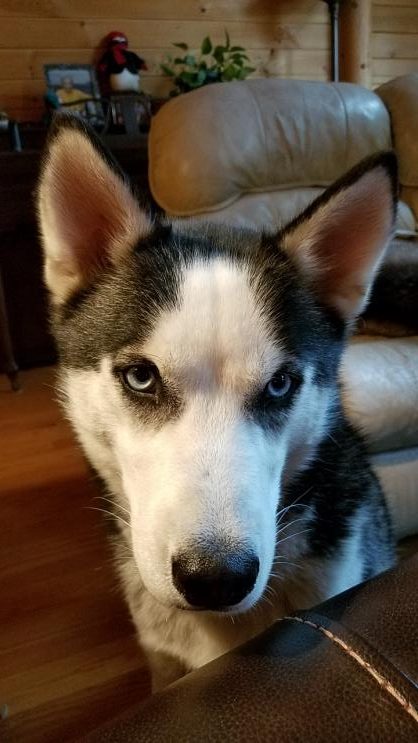 This is Vader, as in Darth Vader. Some days I call him Space Invader because he is always on my lap. He is Ridley's brother. He is more playful than Ridley. He is also two years old.
Vader is a rescue dog like his brother. I got them from PSHR, and they both had some behaviors to deal with at first. Vader is a master surfer of counters. He's been pretty good lately. His brother likes to make friends with the garbage can.
Vader is new to mushing as well. At first he had no idea what to do or expect. Echo being the good teacher he is, he taught Vader to just let the human put this contraption on, and then run!
Vader is a wheel dog [closest to the sled] because of how strong he is. He also weighs 75 pounds. He is always first on the bed, trying to get a spot for the night. He loves to cuddle and lie right on top of me. He loves to play fetch!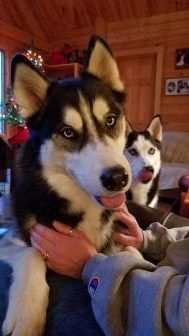 This is Echo. He is 2½ years old. He is Yacha's brother. He weighs 75 pounds and is a lot fluffier than his diva sister.
His personality is a kind one. He is such a big love. He does jump on people, but only to give a little husky kiss on the chin.
He is the teacher in the pack. He is also the protector. He's a bit goofy. Sometimes he lets me sweep the floor with him.
His position in the team is Wheel. Wheel dogs pull most of the weight. Sled dogs can pull five times their normal weight. Echo can pull 375 pounds.
His name is appropriate, because when he barks across Elbow Pond, he responds to his own echo.
AB: Tell us about your sleds … they sound pretty cool.
ML: The sled I use on snow is called a Danler Hornet XT. I actually won it my first rookie winter. I won it from a drawing done at a sled dog trade fair, and I only bought one ticket.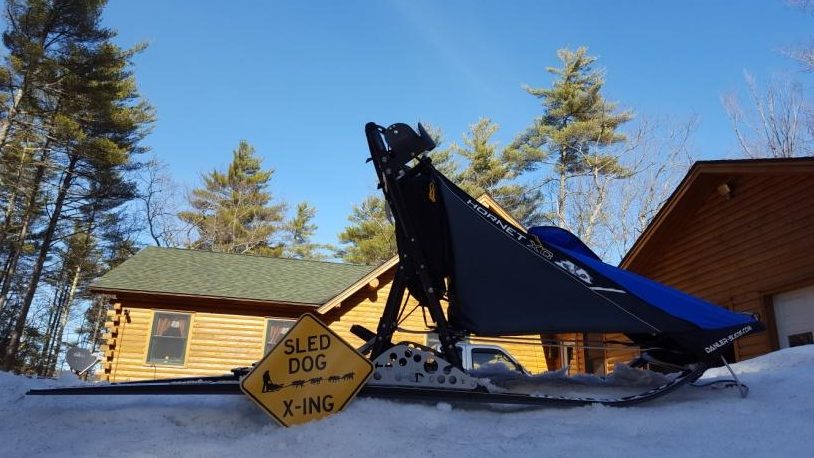 It weighs 19 pounds. It's very fast. It can hold some cargo, such as emergency equipment, food, a first aid kit for dogs and humans, and a dog if necessary. I could have only one dog pull this sled. This sled is not like the wooden ones that are everywhere.
The best thing about this sled is it folds up and fits in the backseat of a car!
During the spring and fall I use what is called a dry-land rig. It's made out of airplane grade aluminum. The best way to describe what it's like to use it would be to say a four-wheel bicycle without pedals. It has four-wheel disc brakes with 20" fat tires and a huge digger brake that I can step on to help stop the team running. It's called an Outlaw DST-2. It has a passenger seat, too!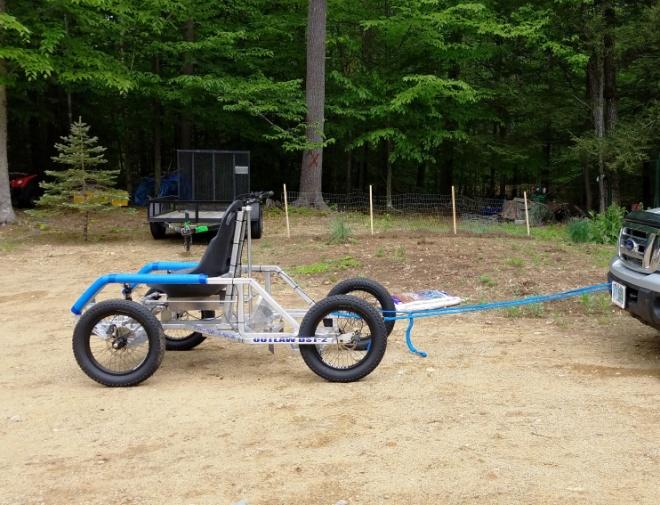 AB: How do the dogs react to a day on the trail?
ML: When I take them to the gate on the Northern Rail Trail, they act like real sled dogs. At home they don't whine, cry, and bark. When the dogs know we are going out, they are full of energy. I take each one to the line, and they start barking, howling, and jumping up and down.
I would say the hardest part for them physically is if we get caught when the temperature gets too hot while running. It's happened twice. I've been on a run and it suddenly gets warm. We have to slow way down, take many water breaks, and take our time getting back to the truck.
My dogs would like to visit all the other dogs they see on the trail. But their focus is amazing. The dogs approach running almost like a job that you love to get out of bed for.
In the fall, there are so many smells for them. Depending on what training needs there are, I will sometimes let them stop and smell everything along the trail.
My little PaMola gets so happy that she starts smiling and shaking with excitement. She is what I call a "hopper." She likes to jump up and down in place because she can't wait to get running.
Echo is a real hard worker. He does most of the work. If we are on snow and he needs a break, he will most definitely become the "Andover flat tire." He will lie down and eat snow.
When the dogs get to pull the dry-land rig, all humans have to wear a helmet. It is by far a wild ride, and people who get a ride need to hang on!
I think what's rewarding for the dogs is to run. And especially if Alpha (that's me) gets to take them somewhere new that they haven't been to.
Emotionally, I think it's hard for them to see other dogs that are off leash on the Rail Trail. They forget that they are out on a run with a rig or sled, and they want to go play with the other dogs they see down the trail. This has happened several times.
My dogs are on a gangline, so they can't run off and play. When the other dogs approach the team, sometimes behaviors can cause massive tangles, and my dogs can get injured because they can't get away.
AB: How do you react to a day on the trail?
ML: There is a lot of instinct that kicks in on the trail. First, I'm anxious about what could go wrong. I'm trying to be better about listening to my gut. I'm often smiling ear to ear when everything is going smoothly bringing dogs to the line.
I have had a couple escapes from the line, and usually the dogs don't go far but will run right next to us. It's a waste of time trying to get an escaped husky to come to me. So I let them run out some energy and then I can get them to come back with a treat.
I love when the snowmobilers stop and ask about my pups. Almost always one rider has had a husky in their life.
What is hardest physically is breaking trail, and being dragged. The snow machines do some sort of grooming for just riding on the trail. I don't enjoy being dragged, and it's hard to stop when that happens. It has happened to me several times.
But all mushers have been dragged. Usually because the dogs take off and the sled or rig isn't able to hold the dogs due to hooks not able to be set right, or snap rings malfunctioning.
I have to be quick on my feet to grab the sled before they are gone without me. It could be a long walk back to the truck. And you hope the dogs have found their way safe and unhurt.
I just love how happy they are running. I love how they press up against me during breaks, and all those slobbery husky kisses!
Emotionally, what's hard for me is fear. Fear that something awful will happen to my dogs.
On my last mush a week ago, a man on a snow machine approached us. I pointed to the side I wanted him to travel, and with my hand asked him to slow down a bit.
My dogs are scared of snowmobiles. I always stop my team when they approach for safety. Sometimes I will go stand next to the dogs.
When the rider passed us he pegged his throttle and threw a bunch of ice and debris in Yacha's face. That could have damaged her eyesight forever. I don't even know why he did it. It was mean-spirited.
I also worry very much about dogs not on leashes. That stresses me the most. I don't want to have any dog fights or severe entanglements. I believe there is a leash law in Andover, but the rail trail seems exempt.
AB: Where do you enjoy mushing around Andover?
ML: I like to mush around my property and my neighbor's property. The Mianos and Bill Bardsley let me turn around on their properties. I need a large area to turn around, and they have been very generous letting me do so!
I can't wait for Elbow Pond Road to be fixed, because then I can go out my driveway and take a right, mush to Old College Road, and at the junction of Elbow and Old College Road take a left up into the woods!
Other times I hook up near Switch Road or the park-and-ride over near Potter Place. The Rail Trail is excellent as it is near my house, and it goes on for miles and miles! I love the Rail Trail and hope we do not lose any trail. Mushers are losing trails all over New Hampshire for various reasons. It would be a dream to have places just for mushers to run, like they do in Alaska.
AB: Have you mushed outside the area?
ML: I have mushed up north a lot with my mentor Whatleigh Torsey in Plymouth and several towns north of Plymouth. Most places I need landowner permission. I also like to mush in Hill because it's close by.
This winter has been especially hard. It seems to snow, but then right after that it rains, which makes the trail icy. I cannot mush if trails are ice. I cannot set snow hooks to keep the team from taking off.
In addition, ice can cut my dogs' feet. I can put booties on them, but ice is ice and it's nasty for mushing.
AB: Any interest or experience in competition?
ML: Right now, I do not have interest in competition. The main reason is my dogs are still a bit too young to do a 25-mile mid-distance race. I need good weather conditions for the whole winter to train the team.
When the weather is awful, the dogs always lose what mileage they gain in fall training. A bad winter can be a big setback. Maybe someday. Climate change has made it hard to predict winter activity.
Maybe someday I will be in a local race. There are several around the state. I will have to see how the weather is next fall.
AB: What one thing do you think would be most surprising for our readers to know about mushing?
ML: Mushing is really for the dogs. As a musher, my happiness is secondary to the dogs' love for running and "working."
The dogs don't care if it's 20 below zero, but I do! These dogs will run faster the colder it is. The joy of being able to run and run for miles can last for days.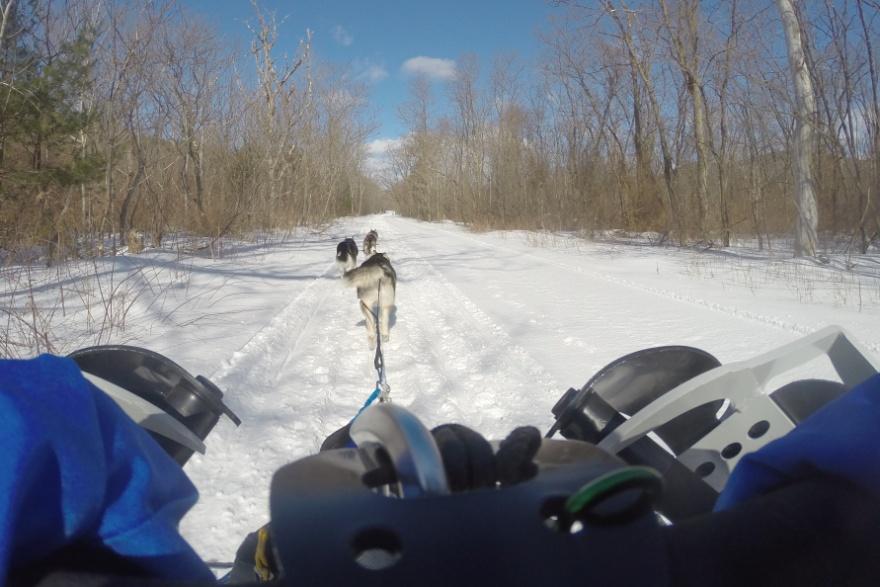 Even rescued huskies love to run. Not every rescue can run however; when I rescue huskies, I try to match a rescue with my pack so they can run, and then retire and live out their days on the pond.
AB: Can we root for you in the Iditarod in March? Someday?
ML: That is a long way to travel. A lot of money is needed. Travel to Alaska takes months of prep time. And the Iditarod is in March. I would have to leave New England in December just to get to Alaska, train, and then race 1,000 miles, and then get home!
So the Iditarod is not on my bucket list. If the Iditarod ever does end up on my bucket list, then it's safe to think I've been divorced!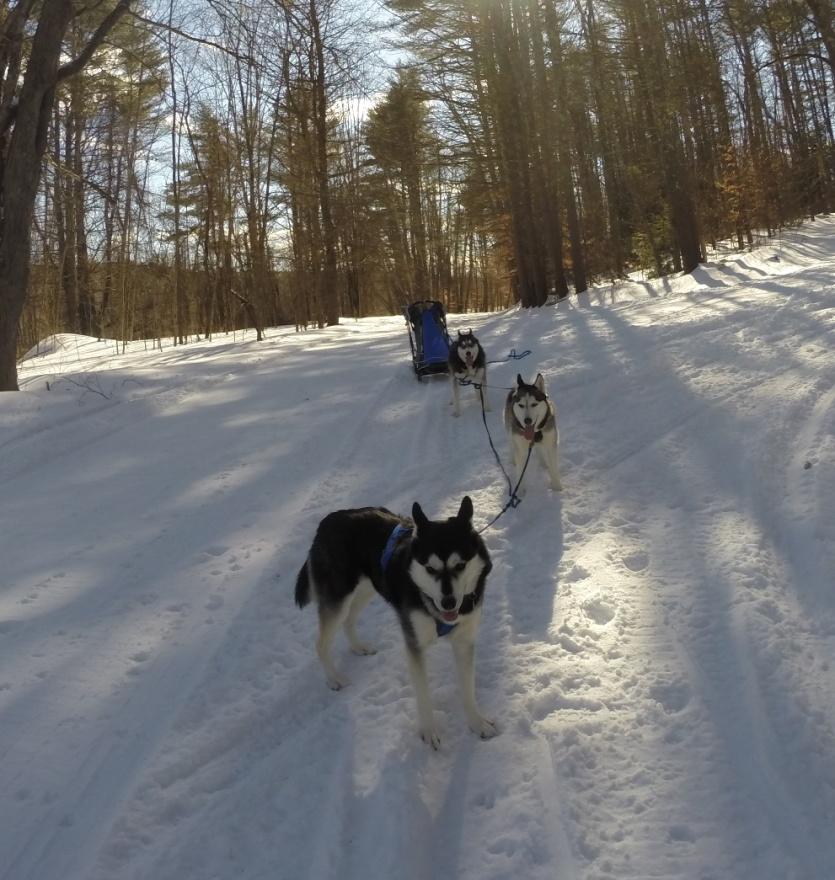 For more information about Michelle and her dogs, visit Ragged Mountain Mushing on Facebook.