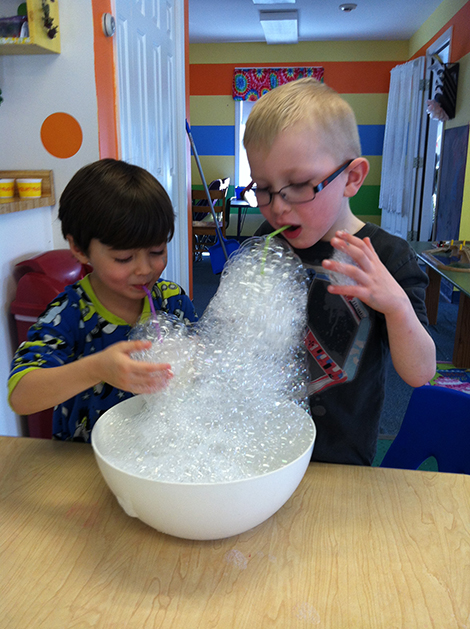 Here at Imagination Inn we are eagerly watching and waiting for Mother Nature's signs of spring. Our late March winter blast changed our plans for our outdoor scavenger hunt. We began questioning our Groundhog predictions and the theory of "In like a lion and out like a lamb." As the end of March approaches we continue to bundle in our snow pants and winter gear. Our Preschool Pandas were fooled as we marked our calendar for the first day of spring only to find a foot or more of snow to dig in! As much as all us "big" people are ready for some warmer weather and sunshine, children here at the Inn continue to love digging, building, and making snow creations.
Pandas and Tigers did their best to capture our little Irish leprechaun. The children filled their traps with shiny necklaces, comfy furniture, and sparkling gems. We arrived on Monday morning to a classroom turned upside down. Tables were moved, streamers were thrown, and chairs and toys were scattered around the room. We were excited to see the traps had fallen, just as expected. With much anticipation we lifted the traps in hopes of catching our mischievous little friends. Sadly, no leprechauns were found, but a few shiny coins were left for our little ones to enjoy. There is always next year!
Easter arrived early this year along with our Spring Family Fun Night. On Wednesday, March 27 children arrived with their families and followed the bunny trail throughout the school. They searched for matching eggs, "fished" for carrots, and decorated eggs. The children hopped their way through all our spring adventures and ended the night with a special story time book and a picture with the Easter Bunny. We are looking forward to going on our spring scavenger hunt in search of warm weather, budding plants, and hopefully a few green patches of grass.
We ended this fun month with our second annual Hopping Thon. We enjoyed our healthy heart bunny hop on Friday, March 29. The children made their own bunny ears and painted on a few whiskers and a bunny nose. We hopped, hopped, hopped and jiggity hopped to the bunny song, snacked on carrots and water, and hopped our little hearts out. Children earned a healthy heart certificate and went home with a few spring treats. It's such a fun way to welcome spring and get our bodies moving.
We are preparing our incubator for a few spring eggs. With any luck, next month we will be sharing news about our little furry friends. It's always exciting to watch and wait for the chickens to tap their way out of their shells.
It's hard to believe that we are already talking about enrollment for the 2013-2014 school year and summer! Imagination Inn remains open year round offering summer camp fun for children 12 weeks through 12 years of age. Our summer is filled with outdoor adventures, field trips, water play, and endless exploring opportunities.
Fall programs at the Inn include both full-time and part-time opportunities. We offer two-, three-, or five-day programs both mornings and afternoons, as well as Afterschool Care for your kindergarten-elementary age child. For more information on our summer camp fun or enrollment for our fall programs, call Doreen at 735-5900. You can always learn more about our programs and peek into our day by visiting us on Facebook.